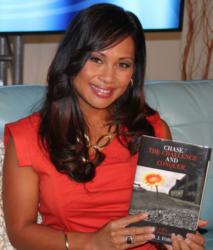 Find you passion and let it blossom.

Don't just survive, THRIVE!
Sacramento, CA - St. Louis, MO (PRWEB) December 12, 2012
Kristen White from the Ripple Effect Show on ABC interviews Author April J. Ford about her endeavors as a Wellness Coach to help people achieve happiness, success, and prosperity. April made it on Amazon's Top 100 Best Seller's list but she surpassed her own list with a new company, new services, new products, and new events---all at the same time.
Her company J.O.Y. launched and offers wellness consultation services through the 4 Step 4 R's Mind, Body, Soul Program. April has integrated her love for health and fitness as part of her wellness coaching and offers Herbalife products and will be trained as a Certified JNL Fusion Master Trainer by Fitness Celebrity Expert Jennifer Nicole Lee herself. J.O.Y. also has a technical tool My dashBoard set to be released Spring 2013.
April has been invited as a key note speaker at the JNL World Conference in Miami January 2013 featured by Oxygen Magazine.
About J.O.Y. – joys of yah, LLC
J.O.Y. is an acronym for "joys of yah". April J. Ford is the Founder and Owner of J.O.Y. (inspired by her middle name and Yah short for Yahweh- translating to God). The vision of J.O.Y. is to share and spread the joys and blessings that April has to share with the rest of the world.
J.O.Y. offers products such as motivational books and services that include speaking engagements and wellness coaching services. Innovative technical products such as My dashBoard will also be offered as the fun part in joy.