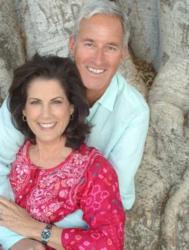 WabiSabiLove: Like two halves of a circle, each partner moves fluidly back and forth as in a dance.
Los Angeles, CA (PRWEB) January 16, 2013
Years later, after she met her soulmate, Brian, she learned the meaning of Wabi Sabi Love. Brian, like other husbands, did little things to annoy her, like squeezing the tube of toothpaste from the middle. Ford started to look at his imperfections with compassion, reminding herself that no one ever wakes up thinking that they want to seek out ways to annoy their spouse that day. She even found something to love about the mangled tube of toothpaste: having a husband who brushes his teeth three times a day means that when he is older, he will still have all of his teeth.
She shares stories of friends who similarly learned to find perfection in imperfection, whether they learned to love football to stop competing for their spouse's attention and stop faking enjoyment or they came to the realization that never having to clean up poppyseeds after their husband left a trail from his bagel would mean that he wasn't a part of their lives anymore. After writing The Soulmate Secret for people looking for love, Ford decided to write Wabi Sabi Love to help couples who had been together for many years find love again. By reading it, couples will come to appreciate each other more, stop being annoyed with each other and start enjoying each other again, and find perfection in imperfection.
Arielle Ford
Arielle Ford has spent the past 25 years living and promoting consciousness through all forms of media. She is one of the founding partners of the Spiritual Cinema Circle, a DVD club dedicated to providing movies about love and compassion. She is the author of seven books, including the Hot Chocolate for the Mystical Soul series and The Soulmate Secret: Manifest The Love of Your Life with The Law of Attraction. Ford lives in La Jolla, California, with her husband/ soulmate, Brian Hilliard, and their feline friends.
For more information, please visit arielleford.com
http://www.WABISABILOVE.COM
Follow Arielle Ford on Twitter @ArielleFord
"Like" Arielle Ford on Facebook at https://www.facebook.com/SoulmateSecret. http://www.FACEBOOK.COM/ARIELLEFORDFANPAGE
For media inquiries or to request a review copy, please contact:
Melinda Mullin Melinda.mullin(at)harpercollins(dot)com 415-477-4409