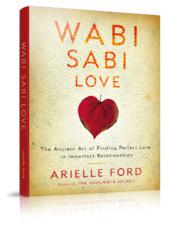 WabiSabiLove: Like two halves of a circle, each partner moves fluidly back and forth as in a dance.
Los Angeles, California (PRWEB) January 09, 2013
Describing the pursuit for perfection, Ford says, "We're brought up to believe that we should be perfect, our spouse and our kids should be perfect, our career should be perfect, and, according to HGTV, our home should be perfect as well." Too often, we place our expectations for perfection on our partner. In Wabi Sabi Love, readers learn how to accept their partner for who they are.
By learning to find perfection in imperfection, couples can accept each other for who they really are, stop being annoyed with each other, and truly enjoy the time that they spend together. She challenges readers to change their perspective, rather than trying to change their partner.
Ford urges, "If, like so many, you've lost sight of the forest of your deeper love for your partner through the trees of his or her imperfections, the tools and skills you will learn in this book will allow you to see yourself and your partner in an entirely new light, strengthen the bond that brought you together in the first, and take your relationship to a whole new level." By ditching the "pure fiction" of perfection, Wabi Sabi Love opens readers up to a new world of possibilities: one in which imperfect is perfect, love thrives, and couples actually like each other and spending time together.
Arielle Ford
Arielle Ford has spent the past 25 years living and promoting consciousness through all forms of media. She is one of the founding partners of the Spiritual Cinema Circle, a DVD club dedicated to providing movies about love and compassion. She is the author of seven books, including the Hot Chocolate for the Mystical Soul series and The Soulmate Secret: Manifest The Love of Your Life with The Law of Attraction. Ford lives in La Jolla, California, with her husband/ soulmate, Brian Hilliard, and their feline friends.
For more information, please visit arielleford.com
http://www.WABISABILOVE.COM
Follow Arielle Ford on Twitter @ArielleFord
"Like" Arielle Ford on Facebook at https://www.facebook.com/SoulmateSecret. http://www.FACEBOOK.COM/ARIELLEFORDFANPAGE
###
For media inquiries or to request a review copy, please contact:
Melinda Mullin Melinda.mullin(at)harpercollins(dot)com 415-477-4409