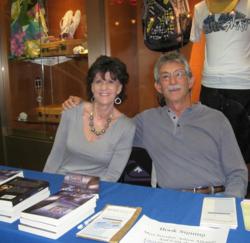 I've been very busy writing my 3rd novel in the series and there will be some surprises!
Castle Rock, CO (PRWEB) March 27, 2012
Like other books in the mystery adventure genre, Currents Deep and Deadly and Currents of Vengeance offer page-turning stories that keep readers at the edge of their seats. Like other books in the genre, they center around a protagonist that readers just can't get enough of.
Unlike other mystery adventures that often feature flat supporting characters, Alleman creates a truly compelling cast of well-rounded supporting characters. She uses their stories to bring socially relevant topics into the story, adding depth through such issues as Mick's PTSD. Alleman renders an accurate depiction of life aboard a luxury cruise ship from her own cruising experiences, as well as offering rich depictions of South American and Caribbean ports that she has been to herself.
Although Currents Deep and Deadly and Currents of Vengeance share all of the best features of the mystery adventure genre with other books of its type, the intelligence and painstaking accuracy that Alleman brings to the genre is truly unique. The Darcy Farthing mystery adventure series is the ideal mystery series for the "thinking reader," the reader who is not typically a fan of the genre, and anyone who loves travel, adventure, or just a great story. Readers will inevitably be left anxious for the next release in the Darcy Farthing series, Current Assets.
The Darcy Farthing Mystery Adventure Series
Alleman's series centers around Darcy Farthing, a pragmatic woman in her forties, who readers were first introduced to in Currents Deep and Deadly. After coming face to face with a vicious murderer in the first novel, she wrote a book about the madness she confronted, which completely changed her life, both personally and financially. The third installment in this page-turning series, Current Assets, is slated for release in Autumn of 2012. To watch the book trailers, visit http://www.arleenalleman.com/trailer.htm.
Arleen Alleman
Arleen Alleman spent 21 years as an analyst for the Government Accountability Office. After retiring from the GAO, Alleman and her husband became avid cruisers, which inspired her to write stories set on cruise ships. In her two six-week cruises around Cape Horn; the first was spent writing her book and the second was spent doing book signings and promoting her books. For more about Arleen Alleman, visit her website http://www.arleenalleman.com/ or follow her on Twitter @AAllemanWrites.