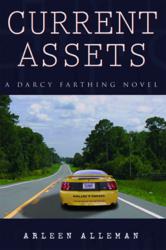 Exciting twists and turns that will keep the reader on the edge of their seat to the very last page!
Castle Rock, CO (PRWEB) July 31, 2012
Current Assets follows author Darcy Farthing as she continues to write at her new home in Marco Island, Fla., while her boyfriend Mick Clayton conducts a GAO investigation of government property—asset forfeitures—stolen from under the noses of U.S. Marshals and a sheriff's office.
When their close friend, Tom Smythe, is arrested for attempted murder of a deputy sheriff, Mick believes the incident is related to the property thefts and corruption. As he attempts to identify those responsible, the story takes a spiraling turn when more deputies are attacked and Darcy and Mick are drawn into a bewildering government investigation and an alarming web of murder and conspiracy with a surprising link to Middle East terrorists—as well as a smuggling operation on a luxury yacht.
To complicate matters, Darcy's daughter, Rachael, pays an unexpected visit from Kenya bringing with her a different type of serious trouble, which Darcy and Mick feel ill equipped to handle. As they inch closer to identifying a vicious murderer, the violence hits close to home when desperate criminals target Darcy and Rachael.
Fast paced, action packed and filled with mystery and suspense, Current Assets offers breath-taking surprises, while revealing more of the characters' complex relationships and vulnerabilities, right up to the unforeseen and startling conclusion.
About the Author
Arleen Alleman is a former analyst with the U.S. Government Accountability Office where she wrote extensively on many topics ranging from satellite systems to endangered species. She has a science education and worked as a fashion model, insurance adjuster, jewelry designer, and proprietor of a home décor shop. Her interests include reading, health and fitness, world religions, and travel. In fact, her world travels supply authentic backdrops and narration for her fictional stories. Born in England and raised in New Hampshire and Nevada, she now lives in Colorado with her husband, Tim and their cat, Xena. Current Assets is her third Darcy Farthing adventure novel.