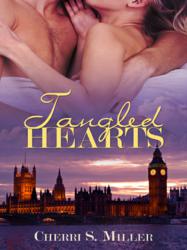 Miller's story, characters, and erotic scenes appeal to female desires, written by someone who understands just what they want out of their erotic fiction.
Dallas, TX (PRWEB) May 04, 2012
"Tangled Hearts" tell the story of Amanda Wilde, a woman who is "addicted to satisfying her obsessions both naughty and nice." Mandy uses men to satisfy her desires, spinning a web of manipulation and deceit, which she describes as "a natural high," taking pleasure is destroying marriages and getting men to do her bidding.
There is one man who is excluded from her conniving: Ian. Although Mandy believes that she has real feelings for Ian, he wishes that she would stop making plans to make him hers and considers her convenient. When Ian falls in love with an American tourist, Mandy promises herself that "she was going to make him love her completely, some day, some how," stopping at nothing to achieve her goal.
Miller's story is truly the perfect match for the discerning reader of steamy fiction, written by a woman, for women, providing them with scenes, characters, and a plot line that speaks to them. It offers a balance between steamy love scenes and riveting plot, making it impossible to put to down.
This page-turning read will grasp readers from the very first page and not let them go until the last page has been turned. Readers will undoubtedly be left anxious for the next release from this promising new author.
Cherri S. Miller
Oklahoma native Cherri S. Miller has been happily married to her soul mate, Howard, for 37 years. Tangled Hearts is her first novel available from Eternal Press.
Follow Cherri S. Miller on Twitter and connect on Facebook for more.