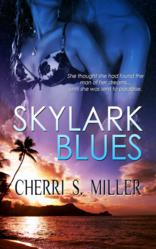 I am so excited about the debut of Skylark Blues given the great reception that Tangled Hearts has received from my readers.
Dallas, TX (PRWEB) July 28, 2012
Tangled Hearts centers on the story of Amanda Wilde, a woman who, "from the cradle" enjoyed "being in control of her world and anyone she allowed to grace her presence." She considers manipulating people "a natural high" and toying with the emotions of men Mandy's control on her world slips when her beloved, Ian, falls in love with an American woman touring London and she determines that she will have Ian all to herself.
Mandy imagines a real future with Ian, but for him, making love with Mandy is simply taking advantage of "the here-and-now." Mandy has no idea that she is in for the lesson of a lifetime.
Like phenomenon Fifty Shades, Tangled Hearts is written by a woman, for women, appealing to them with its plot, characters, and steamy scenes. Cherri S. Miller joins the roster of women whose prowess for addressing the sexual fantasies of women through fiction is creating waves throughout our nation's consciousness, touted as a second sexual revolution.
Every page of Tangled Hearts is filled with passion and intrigue and it will keep its readers furiously turning pages, completely addicted to Miller's story. Readers are thrilled to learn that Skylark Blues will debut August first and will just have to wait one more week to learn about Allison Michaels. When this innocent and beautiful petite brunette sets out to make her dreams come true she discovers the difference between love and lust.
Cherri S. Miller
Oklahoma native Cherri S. Miller has been happily married to her soul mate, Howard, for 37 years. Tangled Hearts is her first novel and Skylark Blues will roll of the presses August 1. For more information, please visit http://www.eternalpress.biz/book.php?isbn=9781615722389.
Follow Cherri S. Miller on Twitter @EroticaNovel.
Her new novel Skylark Blues is launching in August. To see the book trailer on YouTube http://youtu.be/uVmS8uu45js