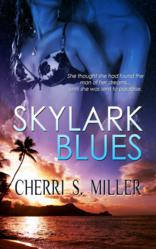 'Skylark Blues' Features the journey of a young womans expedition into adulthood from adolescence and the struggle to reconcile her future.
Southlake, TX (PRWEB) September 03, 2012
Allison Michaels is about to begin the adventure she has been planning for most of her life, she knows exactly how it will happen. Armed with a good mind, self confidence and determination she will pursue a career, fall in love, have a beautiful wedding and settle down with the man of her dreams.
But as this innocent and beautiful petite brunette sets out to make her dreams come true she discovers the difference between love and lust. That while love is her goal lust becomes the magnet that will draw her off her path and into the arms and bed of a more experienced man whom she uses to forget the one that let her go.
Will she be able to forget the ruggedly handsome Tony and find love elsewhere or will their paths cross again unexpectedly?
This page-turning read will grasp readers from the very first page and not let them go until the last page has been turned. Readers will undoubtedly be left sharing this story with friends and eagerly awaiting the next release from this promising new author
Cherri S. Miller
Oklahoma native Cherri S. Miller has been happily married to her soul mate, Howard, for 37 years. Tangled Hearts is her first novel available from Eternal Press.
Follow Cherri S. Miller on Twitter and connect on Facebook for more.