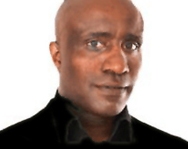 I am thrilled the book is now available for sale, it was an amazing journey to get to where I am now. The book is just the start, as I have been approached to present Motivational Speaking courses in two different countries
London, United Kingdom (PRWEB) May 31, 2012
Using sport, specifically athletics as his outlet, Dave challenged his mind and body to help overcome these obsticles. Training hard and pushing limits was the key and this journey lead Dave into professional competition. His last pro-race was to compete in the 1500m event representing St. Vincent and Grenadines at the 1998 Commonwealth Games in Malaysia.
As a working firefighter for over 20 years, Dave is now based in London as a Watch Manager (Specialist), his drive to help people not only spans the general public, when the brave crews have to attend some horrific scenes, but also that of his fellow colleagues, as Union Learning Representative for his trade union, Fire Brigades Union (FBU). Here he provides the advice and support to union members about their training, educational and developmental needs.
Dave takes lessons learned from his colourful life of athletics and as a member of a tough workforce. Dave has battled for equality and now wants to help people succeed in everyday life with the tools found in his new book.
Dave Pamah comments 'I am thrilled the book is now available for sale, it was an amazing journey to get to where I am now. The book is just the start, as I have been approached to present Motivational Speaking courses in two different countries'.
The book entitled 'Fire Fighting From Within – How To Master The Tools Of Life Even During Tough Times', is intended to help people master any issues that arise in their life by overcoming any obstacles that come by their way. Co-Author Heide Hargreaves suggests readers can learn, experience and create a way to apply the information in the book by taking action on it. Heide and Pamah urge readers to use the tools found in the book to succeed and move forward.
For more information or to arrange interviews please contact: Helen Thompson
Diamond PR Services, Tel: 07870 878148 / Email: info(at)diamondprservices(dot)com
NOTES TO EDITORS:
Excerpts of the book are available for review, electronic copies are available to purchase on the Kindle Store.
Dave Pamah Website: http://www.davepamah.com
Twitter Page: http://www.twitter.com/davepamah