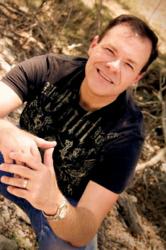 In this captivating book, Pat has gone deep into the hidden places of the heart, where insecurity and fear keep us from fully receiving the perfect love of our heavenly Father.
Trussville, Alabama (PRWEB) January 08, 2013
Why is God so Mad at Me? Is a long and gentle look at a loving God; one who does not judge, punish, or cast out of Heaven. Schatzline's proof lies in scripture and experience, allowing his words to sink in to the reader and reach them in a way that they can easily relate to.
In the troubled times that we are living in, and the world in such a state of unrest, a loving and forgiving God is one that many people are searching for. Examining such common questions as "Why have so many painful things happened in my past?" and "If God loves me, why did I get sick?" Schatzline encourages readers to not let "pain create our theology". He cautions against the ease of doing so, instead providing inspiration for the more difficult, but ultimately rewarding, path: that of faith in the face of crisis.
Having faced and answered these difficult questions many times in his history, Schatzline's experience and attention to the word of God proves to be a valuable teacher for any reader looking for a light on their path through life. Beginning his book tour in November of 2012 and concluding it in August of 2013, Schatzline is prepared to not only answer these questions on the page, but also in person. Why is God so Mad at Me? is available in December of 2012 for readers everywhere.
Pat Schatzline
In 1997, Pat and his wife, Karen, co-founded Mercy Seat Ministries. Since then, they have ministered to over two million people in their travels around the world. He and Karen also founded the Forerunner School of ministry in 2001, and have since helped to launch many more sites. Along with traveling the world as evangelists, Pat and Karen enjoy playing games, working out, watching movies, and spending time with their friends and family.
Connect with Pat on one of his websites:
http://www.mercyseatministries.com
Follow Pat on Twitter https://twitter.com/patschatz
Follow more of Why is God so Mad at Me? on Twitter https://twitter.com/godsnotmadatyou
Find Pat on Facebook https://www.facebook.com/EvangelistsPatAndKarenSchatzline/info