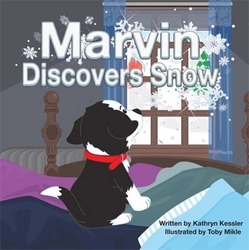 Wake up! Marvin, wake up!
(Vocus) June 18, 2010
Many parents spend a great deal of time and money documenting the first few steps taken by their child as well as the first snowman they had a hand in creating. But do they ever stop to think about how their pets prepare and react to the first snow of the season as it blankets the frosty landscape? In author Kathryn Kessler's new book, Marvin Discovers Snow (published by AuthorHouse), readers of all ages are invited to follow along as a young girl named Jane excitedly prepares herself and her new puppy, Marvin to go outside and discover the new fallen snow for the very first time. What unfolds is a fast moving story of a spirited girl and her curious puppy.
"Wake up! Marvin, wake up!" Jane whispers. The little black and white puppy opens his eyes. "Look outside. It's snowing!"
"The first snow fall seems to make the world look brand new and for a black and white puppy named Marvin and his best friend Jane it's no different. As the excitement builds through breakfast, Marvin waits patiently for Jane to eat."
"The adventure begins as a snow flake falls on Marvin's ear and nose and he is off to the races. The backyard has never been so much fun. To Marvin's surprise the ground seems to change with every step he takes."
Bursting with puppy energy, Marvin takes off running. He runs around Jane twice and stops.
"Look, Marvin," says Jane. "You made a circle in the snow!"
Author Kathryn Kessler is not done sharing the new found experiences of an eager puppy named Marvin. Currently, she is working on completing the Marvin Discovers series with, Marvin Discovers the Beach, Marvin Discovers the Farm, Marvin Discovers Spring, Marvin Discovers Big Brothers, Marvin Discovers Camping and Marvin Discovers Christmas. Look for all of these exciting titles published by Authorhouse in the near future.
About the Author: Kathryn Kessler was born and raised in a small farming community in central Alberta, Canada where views of the Rocky Mountains were abundant. Kessler has had many pets over the years including one eager and curious puppy named Marvin, and his equally curious brother Hibou who gave her the idea for the Marvin Discovers Series.
When not writing the next adventure of Marvin, Kessler enjoys outdoor activities including gardening and spending time with family and friends. Kessler recently worked as an office administrator and has been married to her husband for 23 years. She is the mother of two boys and grandmother to a beautiful little girl. Marvin Discovers Snow is Kessler's first book.
For more information on the Marvin Discovers Series log on to: http://www.theoniontree.com/blog-books.php
AuthorHouse is the premier book publisher for emerging, self-published authors. For more information, please visit http://www.authorhouse.com.
###