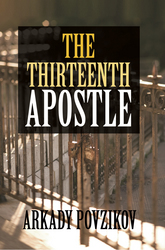 in a time when free speech was a myth
(Vocus) June 18, 2010
His latest book, The Thirteenth Apostle, published by AuthorHouse, gives readers a blueprint for such an idea through a compelling tale of love, mystery, treasure, revenge and one man's destiny.
The story starts in St. Petersburg, Russia, and moves through Siberia, Canada, Chechnya and eventually New York, just after the 9/11 attacks on the World Trade Center.
Povzikov grew up under Communism in the days of the Soviet Union, "in a time when free speech was a myth," he says. He lived in collective housing with 14 other families who all shared a kitchen and a bathroom. After serving in the Soviet Army, he left for Italy as a refugee in 1973 and immigrated to Canada. He has written two other books: Goodbye to Nevsky, a story about his life published in 1987, and The Purpose, a spiritual journey through loss and human experience published in 2008.
The Thirteenth Apostle continues the author's focus on human rights, religious differences and solving the problems of today.
"Religious leaders, who have strong influence over the hearts and minds of millions of people worldwide, are not included in the peace process," Povzikov says. "While governments and politicians focus on tackling such issues as global warming in a united movement, we must remember that global terrorism is an issue just as pressing, responsible for the deaths of many innocent people every day."
The Thirteenth Apostle
By Arkady Povzikov
Published by AuthorHouse
© 2010 Arkady Povzikov
Paperback 6x9
ISBN: 9781452003603
Retail price: $11.60
About the author
Arkady Povzikov was born in Leningrad in the former Soviet Union, the son of a writer. He studied economics at Industrial College and served in the Soviet Army; in his spare time, when he wasn't playing soccer, he wrote poetry and short stories. He immigrated to Canada in 1973.
Today, Povzikov is president of Trademax Renovation, a company specializing in hotel renovations. He and his wife, Lana, have been married for more than 20 years and have two sons. He is working on a sequel to The Thirteenth Apostle, tentatively titled Back to Babylon. Visit his website at http://www.arkadybooks.com.
AuthorHouse is the premier book publisher for emerging, self-published authors. For more information, please visit http://www.authorhouse.com.
###