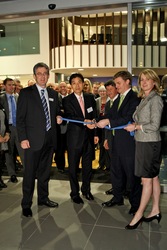 We know we are able to offer New Zealand owners the best experience with their vehicle purchase and operation
(PRWEB) October 2, 2010
The motor industry on the North Shore received a big boost last week with the grand opening of North Harbour Hyundai's world-class new dealership.
The Deputy Prime Minister, Hon Bill English officially opened the Takapuna premises last Thursday 23rd September.
The highly-developed new Auckland car dealership boasts the latest world trends in serving the owners of Hyundai vehicles.
"We are proud to bring this elevated level of premises and service to the North Shore," commented Dealer Principal Dave Bonniface.
"We are making a significant commitment to the future of Hyundai in this region, one which our customers already recognise.
"The Hyundai brand is going from strength to strength and its model line-up is as exciting as it is innovative."
Mr Bonniface, born and bred in Auckland, has been in the motor industry all his working life. He was joined at the opening by business partner Marg Kronfeld. Ms Kronfeld, born in the UK and raised on the North Shore, has had a successful career in finance and property.
The development of North Harbour Hyundai extends the dealership's relationship with Hyundai Motors NZ which distributes through 23 locally owned and operated car dealerships in New Zealand.
"We know we are able to offer New Zealand owners the best experience with their vehicle purchase and operation, and the dramatic elevation of North Harbour Hyundai's profile demonstrates that."
ABOUT HYUNDAI NEW ZEALAND
Currently Hyundai is the number one selling diesel passenger vehicle manufacturer in New Zealand, holds 8.75% in passenger market share, and 7.12% total market share YTD 2010, was 2nd in passenger sales and 4th in total sales in June 2010, is number two in SUV sales YTD 2010 and has numerous new locations among its 23 dealerships. The brand has been imported into New Zealand for the past 28 years.
Established in 1967, Hyundai Motor Co. has grown into the Hyundai-Kia Automotive Group which was ranked as the world's fifth largest automaker in 2009 and includes over two dozen auto-related subsidiaries and affiliates.
Hyundai is a committed sponsor of sports and cultural organisations in New Zealand and worldwide.
# # #