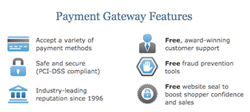 Las Vegas, NV (PRWEB) March 07, 2014
Authorize.net, a simple and affordable payment gateway solution for small- to medium-sized businesses across the globe for both brick-and-mortar, over-the-phone, and online sales has caught the attention of Shane Michaels, prompting an investigative review.
"Even though the process of swiping a credit card to purchase goods or services seems like a simple process, it's actually quite complex," reports Michaels. "As one of the original payment gateway solutions on the market, Authorize.net has really perfected their services and designed them in a way that is effective for small or medium sized businesses. With Authorize.net, customers get safe, simple payment processing with top notch support and affordable pricing."
Authorize.net was founded in 1996 and is one of the most globally-recognized payment gateways on the market. As an Authorize.net customer, businesses can accept payments at a retail stores, on mobile devices, online, or through mail/telephone orders, giving them maximum flexibility to service the largest audience of consumers possible. Each year, Authorize.net processes more than $100 Billion in transactions, and currently services more than 400,000 customers. The price for businesses to use Authorize.net as their official payment gateway involves a $99.00 setup fee, a monthly gateway fee of $20, a batch fee of $0.25, and a transaction fee of $0.10. Authorize.net also offers other add-on services such as Advanced Fraud Detection Suite, Automated Recurring Billing, Customer Information Manager, and eCheck processing. Each Authorize.net customer receives a free mobile app, free customer support, a free Verified Merchant seal, and a free virtual terminal. Unlike other payment gateway providers, Authorize.net has no hidden feeds, no annual renewal fees, and no cancellation fees.
"As one of the original and most popular payment gateway solutions, customers can rest assured knowing that their transactions and customer purchasing information is totally safe and secure," says Michaels. "But in addition to the wide range of flexibility and affordable pricing that Authorize.net offers, they have also won awards for excellence in customer service, showing that they are indeed one of the ultimate choices in the market for payment processing."
"Authorize.net is also the top choice especially for ecommerce stores, since it is already a pre-integrated partner of software providers such as Shopify, Volusion, Bigcommerce, and numerous other third party providers."
Those wishing to invest in the Authorize.net payment gateway or for more information, click here.
Hopefully this Authorize.net merchant account review has been helpful. Visit the official site of Authorize.net here.