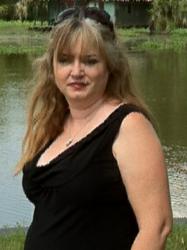 Writing is great therapy for my own personal fight against Multiple Sclerosis.
New Orleans, LA (PRWEB) July 19, 2012
In the sleepy, idyllic town of Hope, Louisiana, all is most definitely not well. Young women have been disappearing from their homes, their bodies turning up mutilated and displayed like trophies. For the first time in this small town, evil has come out of hiding in a terrifyingly big way, and no one knows who will be next to die.
Detective Jordan Sanders, Hope Police Department's only female officer, desperately wants to find the killer. Beautiful, tough, and determined, she knows his capture is the key to advancing her career. Realizing that the trail of suspects is about to lead nowhere, she calls in the FBI to assist.
Agent Alex Hamilton specializes in cases like this, and comes to Hope ready and able to capture a killer. What he doesn't expect, however, is the instant animal attraction he feels for Detective Sanders. While trying to keep work separate from romance, he realizes that Detective Sanders is in the killer's sight, more vulnerable than she knows, and about to be the next victim in a series of crimes so heinous all of Hope is hiding in fear.
The killer refuses to be caught, enjoying his torture games and excited to display his next victim. Calling himself "The Hunter", he stalks his prey with deadly stealth, waiting until the perfect moment arrives. When he learns that Detective Sanders is working his case, he decides she's the perfect objet d'art for his collection of "masterpieces".
Will she put him behind bars before he gets to her first? Find out in Mary R. Theriot's The Hideaway, now available in eBook format.
Mary Reason Theriot
Louisiana-native, Mary Reason Theriot has lived in various states with her husband's United States Coast Guard career. Until being diagnosed with Multiple Sclerosis in 2001, she worked in the legal field. Encouraged to write by her youngest child, she calls writing "great therapy for my own personal fight against MS." The Hideway is her debut novel.
Follow Mary Reason Theriot on Twitter @Mktheriot.
Read Mary Reason Theriot's blog at http://maryreasontheriot.me/.
View Mary Reason Theriot's YouTube channel at http://youtu.be/9g-9BeO3r9w.