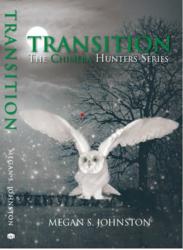 We had a great book launch yesterday thanks to Third Place Books in Lake Forest Park, WA
Woodinville, WA (PRWEB) July 26, 2012
A welcome new take on young adult paranormal romance, Transition, The Chimera Hunters Series is a well-written and refreshing departure from the all-too-familiar trappings of paranormal romance. With interesting, creative characters and a captivating twist on an ancient myth, the Chimera Hunters Series is set to enchant lovers of the genre.
Set in the deep, lush landscape of the beautiful Pacific Northwest, Transition is the story of Shelby O'Neil, a beautiful, if not sheltered, college sophomore and a man named Develon Cole, a member of a nearly immortal race of shape-shifters who have, until now, remained in the shadows hidden from human kind.
Excited to be in her own apartment for the first time, Shelby O'Neil is ready to begin her new life journey away from home at Washington State University. At the same time, Develon Cole, a Chimera, is searching for his sodalis, his mate for life. When the two begin to have vivid, intense recurring dreams of one another, their fates become entwined, and they are on a path of destiny. When Shelby encounters Develon for the first time, she is shocked to realize that he is none other than the man from her dreams.
Develon helps Shelby navigate through a strange new world as she struggles to find her place. While deciding who to trust, she discovers that she is not at all who she thought she was.
Filled with plenty of tender romance and intriguing mythology, Transition will have readers under its spell, eager to read the next installment of this six-part continuing-world series from promising new author Johnston.
For information on the book launch for Transition, The Chimera Hunters Series, please visit:
https://www.facebook.com/events/421924567841560/.
Megan S. Johnston
Megan S. Johnston is a freelance writer and entrepreneur living in the Pacific Northwest. In addition to writing fiction, she runs several family-owned and operated businesses, which she started over twenty years ago. She is an avid reader of paranormal romance and a member of the Pacific Northwest Writers Association. She has four children and seven grandchildren and lives with her husband and two dogs in Washington State. Transition is her début novel.
For more information on Megan S. Johnston, please visit http://megansjohnston.com/.
Find Megan S. Johnston on Facebook at https://www.facebook.com/MeganSJohnston.
Follow Megan S. Johnston on Twitter at http://Twitter.com/MeganSJohnston1.
Connect with Megan S. Johnston on GoodReads at http://www.goodreads.com/author/show/6003257.Megan_S_Johnston.