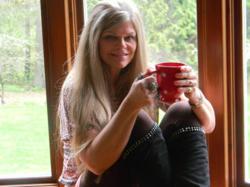 My fifteen-year-old niece and her friends adore it and want to be in the movie!" and "I just couldn't put it down until it was done
Woodinville, WA (PRWEB) August 21, 2012
Readers are calling it "a definite page turner," "completely engrossing," and "refreshing and new."
Released in May of 2012, Transition lives up to the hype and excitement that has surrounded it since it hit bookshelves and e-book stands. With glowing reviews and a growing fan base, Johnston's novel has successfully opened the door for the much-anticipated six-book continuing world series that is introduced in Transition.
The story of Shelby O'Neil, a young woman whose life takes a turn for the mysterious and romantic, and Develon Cole, the beautiful stranger that has been haunting her dreams, Transition boasts main characters that readers are finding "well-rounded and understandable".
Johnston draws readers in to the world of the Chimera, an ancient race of beings that have great power and an even greater ability to love. Johnston's Chimera were feared by the gods, and subsequently cursed, their souls split in two. Condemned to spending their long lives wandering, in search of their other half, the Chimera cannot love, hope or dream until they find their soul mate.
Despite the danger surrounding them, Shelby and Develon find each other when a series of bizarre
circumstances draws them together and sweeps both of them up into a suspenseful adventure of heart-stopping romance and self-discovery. Shelby discovers her true origins and must decide who she can trust in this brand new world, and what to do now that her life has been turned upside down.
Readers of all ages are falling in love with Transition, stating "My fifteen-year-old niece and her friends adore it and want to be in the movie!" and "I just couldn't put it down until it was done". With many fans thrilled about the new twist on shape shifter lore and the refreshing take on young adult para-romance, Johnston's Chimera Hunters Series is generating incredibly positive buzz all around the Internet, and fans are eagerly anticipating her second novel in this wonderfully whimsical new series.
Megan S. Johnston
Megan S. Johnston is a freelance writer and entrepreneur living in the Pacific Northwest. In addition to writing fiction, she runs several family-owned and operated businesses, which she started over twenty years ago. She is an avid reader of paranormal romance and a member of the Pacific Northwest Writers Association. She has four children and seven grandchildren and lives with her husband and two dogs in Washington. Transition is her début novel.
For more information on Megan S. Johnston, please visit http://megansjohnston.com/.
Find Megan S. Johnston on Facebook at https://www.facebook.com/MeganSJohnston.
Follow Megan S. Johnston on Twitter at http://Twitter.com/MeganSJohnston1.
Connect with Megan S. Johnston on GoodReads at http://www.goodreads.com/author/show/6003257.Megan_S_Johnston.