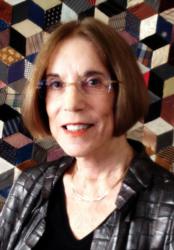 St. Louis, MO (PRWEB) May 08, 2013
The St. Louis County Library Foundation is pleased to present acclaimed poet Susan Terris for a discussion and signing of her book "Ghost of Yesterday: New and Selected Poems" on Wednesday, May 22, at 7:00 pm at Library Headquarters, 1640 S. Lindbergh Blvd. The program is free and open to the public. Books will be available for purchase at the event from Left Bank Books.
St. Louis native Susan Terris presents a reading and signing of "Ghost of Yesterday," a collection of new work and highlights from her 25-year career as a poet.
Ms. Terris has written poetry since she was an undergraduate in classes being taught by Richard Wilbur, David Ferry and Philip Booth. Her writing career, however, began in the field of children's fiction. She had 21 books published by New York houses such as Doubleday, Macmillan, Scholastic, and Farrar, Straus & Giroux. During the same period, she also wrote poetry and had poems published from time to time. About 25 years ago, Ms. Terris began to find herself consumed by the writing of poetry. Since then she's written and published only poetry.
Her poetry books include "The Homelessness of Self," "Contrariwise," "Natural Defenses," "Fire is Favorable to the Dreamer," "Poetic License," and "Eye of the Holocaust.". Her work has appeared in many publications including: The Iowa Review, Field, The Journal, Colorado Review, Prairie Schooner, Spillway, The Southern Review, Volt, Denver Quarterly, and Ploughshares.
Program sites are accessible. Upon two weeks notice, accommodations will be made
for persons with disabilities. Contact St. Louis County Library by phone 314-994-3300 or visit http://www.slcl.org.