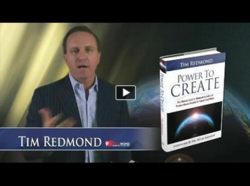 Enrique Smith from Amazon: I think this book would make a great gift. It is practical, insightful and dynamic!....I have 2 nephews one in college and one just out of MBA school on his first Corporate Job, I bought them each one as gifts.
Tulsa, OK (PRWEB) September 27, 2012
The tour will showcase the book that holds the key to unlocking the leadership and personal growth potential for every individual.
As a world renowned business makeover specialist, Tim believes that most people possess amazing gifts and talents, but they drift about directionless. They have a sense of greatness, yet they live in obscurity and quiet desperation. Tim Redmond's mission is to revolutionize people's thinking and show them how to unlock greater purpose, strengthen their relationships and increase their generosity.
Tim Redmond has trained thousands of business leaders across the globe to discover and unleash their unique gifts and to approach challenges with a "can-do" perspective. Seeing amazing results while interacting one-on-one with business leaders, addressing large corporations, and presenting to thousands in crowded auditoriums, Tim felt compelled to write a book so hundreds of thousands of people worldwide could enjoy the transforming principles of his Power to Create message.
The Power to Create is the ultimate guide to eliminate scarcity and produce massive results individually and for others. Concepts that counter limited thinking and propel you into your creative power are revealed in the book. One of the concepts Tim features in the book is how to become what he terms "contagiously referable." One of the ways to do that is by simply doing what you say you will do. Keep your word. People who keep their word become trustworthy. People want to do business with someone they can trust.
"I love growth," Tim explains, "and I am obsessed with teaching businesses and organizations how to stimulate growth in their purpose and profits using innovative coaching and consulting approaches and tools. Through this book my ability to help others will expand exponentially."
The virtual book tour launches with Tim and Power to Create stopping in your city, your town and on your desktop. Stay tuned for more sightings – from Honolulu to Hong Kong you may see the Power to Create!
This coming Thursday, September 27th, in Tulsa, Oklahoma Tim Redmond's Power to Create Amazon Best-Seller/ Book Signing /Launch Party kicks off at 5:30 pm at the Crowne Plaza (formerly the Hilton Hotel across from ORU). Guests can RSVP on Facebook.
About Tim Redmond
Using over 25 years of experience in growing multi-million dollar organizations, coaching leaders, and intensely studying leadership, business, and the wealth creation process, Tim brings powerful, positive change to individuals and organizations through his innovative, insightful and entertaining training approach. He earned his CPA while working at PriceWaterhouseCoopers before joining Tax and Accounting Software Corporation and Intuit, where he served for over 15 years.
A gifted author and speaker, Tim has published a multi-media curriculum, numerous books and training programs designed to strengthen and expand the leadership and wealth creation capacities of leaders and teams worldwide.
About Redmond Growth Initiatives
Founded by Tim and Sandy Redmond, Redmond Growth Initiatives coaches leaders to significantly grow their organizations and fulfill their amazing purpose without sacrificing relationships that matter most to them. Tim and Sandy also operate the Redmond Leadership Institute (RLI), the non-profit aspect of their work which is focused on reaching, restoring and releasing leaders into their unique purpose via seminars and conferences in the US and overseas; particularly in developing nations with huge potential.