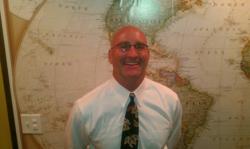 His emphasis on college readiness will be an asset to our school in preparing students for college
Atlanta, GA (PRWEB) August 21, 2012
Cumberland Academy of Georgia, Inc., a SACS-CASI accredited, private, non-profit independent school dedicated to students with special needs, announces the addition of Mr. Tim Graham to the faculty. Mr. Graham will be leading Cumberland Academy of Georgia's History and Social Studies programs, teaching a variety of subjects including geography, history, government, economics, and sociology. Mr. Graham has 14 years teaching experience at the middle and high school level and is a certified special education instructor. He received both his Bachelor of Science degree in Political Science and History and a post-Baccalaureate Secondary Education (6-12) Certification from Kennesaw State University. Mr. Graham proudly served in the Navy Reserve for 4 years and is a retired Major from the US Marine Corps.
Believing that he is 'called' to serve others with his time and talents, Mr. Graham is very passionate about teaching and coaching. Through his various experiences, he has established success with students at differing academic levels and learning styles. He emphasizes discipline, order, structure and routine in his classroom and combines traditional learning with hands-on, technology based activities. "We welcome Mr. Graham to our school and are excited to have him join our team," said Ms. Debbi Scarborough, Founder and Headmaster of Cumberland Academy of Georgia. "His ability to tap into each child's learning style, while providing structure and accountability, inspires our students to learn. His emphasis on college readiness will be an asset to our school in preparing students for college."
Cumberland Academy of Georgia's goal is to take the stress out of academic learning; therefore, classes are taught with each individual student in mind. The faculty and staff strive to teach each student Georgia Academic Standards, utilizing their preferred learning style, and to help them become independent, successful young adults. Cumberland Academy of Georgia provides a tailored learning experience for students with Asperger's Syndrome, High Functioning Autism, Learning Disabilities and ADD/ADHD. With a low student-to-teacher ratio, Cumberland Academy of Georgia is designed for the needs of many students who do not learn well in traditional settings. Cumberland Academy of Georgia is fully accredited and addresses the student's academic, emotional and social concerns through nurturing, innovative and challenging programs.
Cumberland Academy of Georgia is growing! It's currently accepting applications for grades 4 through 12. To schedule a tour of the school, please contact Terri Brooks, Director of Admissions at 404-835-9000 or email admissions(at)cumberlandacademy(dot)org. Open House is scheduled for Sunday, October 28, 2012 from 2pm – 4pm for families to tour the campus and meet the wonderful faculty and staff. To learn more, please visit http://www.cumberlandacademy.org.