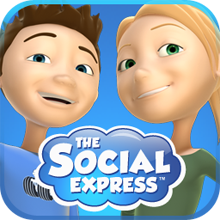 In our classroom we use The Social Express to enrich social skills concept development and encourage generalization. We play the program on an iPad and project it on the whiteboard.
San Diego, CA (PRWEB) July 12, 2012
Social Skills Department Chair Elif Cagin reports observing improvement in her students' social skills concept development after using The Social Express™. Reading, math, science and social studies teachers at New Vista School have also observed students talking about and using the social behaviors and skills taught in The Social Express.
The Social Express is a new 16-lesson autism software program for children between the ages of five and 12 years. It uses interactive video modeling, movie quality animation and original characters that children find engaging. Each one of the 30 interactive scenes contains teachable moments. The teachable moments help professionals, parents, and educators reinforce social skills learning.
Elif Cagin holds an Applied Behavior Analysis Post-Masters Certificate and a Master's Degree in Special Education, among others. Cagin also serves as the Chair for Autism Speaks, Orange County Chapter in California.
Autism Software Works for Students at Different Levels
Cagin explained, "In our classroom we use The Social Express program three to four days a week to enrich social skills concept development and encourage application and generalization. We play the program on an iPad and project it on the classroom whiteboard."
Cagin begins each lesson with direct instruction of the concept that will be the focus of the day. Then she plays The Social Express. She pauses the program for discussion and participation.
She finds that The Social Express is appropriate for varying ability levels because with it she can enrich or modify her own instruction. She uses the video modeling in the program as a strong support for any social skill concept she's teaching.
Social Skills Development Increases
Student attention and engagement in social skills concept development across the class period has increased noticeably, according to Cagin. Before using this autism software learning program, specific students could only remain engaged with a lesson for fewer than 10 minutes. They needed frequent prompting for participation. When these same students are using The Social Express, they pay attention for 15-20 minutes and participate independently.
Her students regularly ask to use The Social Express. She's observed students outside of class discussing concepts. She's also noticed they are using critical thinking skills when faced with, or observing peers, that are in similar situations as the characters in the program.
Cagin highly recommends The Social Express program to other educators and encourages them to use the program's concepts to help guide lesson planning.
She added, "It is a very useful tool and students highly prefer this mode of instruction to others. The program is based on social skills and behavioral concepts that should be the foundation of any social skills program. The Social Express has other factors that are also important when considering a program for social skills instruction. Those include appealing animation, interactive components, and clear socially valid dialogue."
The complete interview with Elif Cagin is published on The Social Express blog. Click here.
About The Language Express, Inc.
The Language Express, founded by parents of autistic twins in 2008, is a privately held company based in Encinitas, California. The company develops The Social Express™ and other interactive social learning software. The company's mission is to help children with ADHD, Autism and Asperger's to improve their lives by teaching social skills using video modeling. Visit the company at http://thesocialexpress.com/
About New Vista School
New Vista School located in Laguna Hills, California, is a grade 6-12+ progressive educational center that provides a safe, structured educational environment serving the needs of students with Asperger Syndrome, high-functioning Autism, and language learning disabilities who may benefit from social and transitional skills development. They maximize personal achievement and foster independence through academics, social skills, self-advocacy, and community involvement. Students are shown new avenues to challenge their minds and prepare them for their adult lives while being supported and guided by professionals, parents, and educators who seek only the best for each student. Website: [ http://newvistaschool.org/