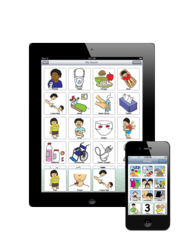 Picture AAC app enables children with autism to learn effective communication by utilizing their visual learning strength.
Singapore, Canada (PRWEB) March 22, 2012
Touchscreen tablets and autism apps are revolutionizing learning and communication for autistic individuals. Picture AAC app, developed by Hearty SPIN, helps nonverbal children with autism learn to use pictures to communicate effectively. Many children, teens and adults with autism have shown keen interests in using the iPad and iPhone due to the ease of interaction with the devices and the visual responses from the apps.
Once considered rare, autism now affects many children worldwide. Hearty SPIN announced the release of its Picture AAC app Chinese version to serve autistic children from Chinese speaking families. Picture AAC app Chinese version is the first Chinese language app designed to support autistic children on Apple iOS platform. Hearty SPIN plans to develop the app in various languages to serve non-English speaking children with autism worldwide.
Many children with autism have speech impairment or delay, which often lead to behavioral issues as their needs are not being understood by others. Speech delay also adversely impact their ability to learn other skills and knowledge as communication is an important foundation for learning.
Apps developers have created various autism apps in the last 1 year to help autistic individuals learn various skills such as communication skills. The needs and abilities of people on the spectrum differ greatly and for many of them, the existing communication/AAC apps out in the market are either too complicated to understand or are too basic, poorly designed, resulting in that they are not able to use these apps to communicate their needs and feelings effectively.
Hearty SPIN wanted to develop a communication/AAC app with an interface simple enough that even individuals with moderate-severe forms of autism, and individuals with other low functioning special needs are able to use and at the same time, it must be functional and effective enough for their daily communication. This led Hearty SPIN to spend months researching, collaborating with special education school and worked with several special education teachers, speech therapists and other professionals in the design, trial and development of Picture AAC app.
"Picture AAC app enables children with autism to learn effective communication by utilizing their visual learning strength." said KhengWah Koh, Founder of Hearty SPIN, a social enterprise that provides Solutions for People In Need.
Like existing picture communication systems, such as PECS, which have over the last decade enabled many autistic individuals to communicate, Picture AAC app is an Augmentative and Alternative Communication (AAC) app designed to enable people who have little or no functional speech to communicate using pictures. New touchscreen technology have made assistive technology more affordable and accessible to individuals with special needs than before. With Picture AAC app, it is easy for speech therapists, teachers, parents to add relevant pictures using the devices built-in camera or importing from Internet, and free them from the time-consuming task of printing, laminating and preparation of physical picture cards.
AAC helps reduce anxiety, stimming, tantrums, and is an important bridge to developing spontaneous language. Picture AAC app comes with audio function that reads out the words represented by the pictures and helps preverbal/nonverbal children progressively develop speech and language skills.
Picture AAC app supports individuals with special needs like autism spectrum disorders (ASDs), cerebral palsy, speech and language impairments / delays, down syndrome, hearing impairments, apraxia, aphasia, dysarthria, intellectual disability, and developmental delay to express their needs, feelings, and to ask and answer questions.
Picture AAC app available on Apple App Store for iPad/iPhone/iPod touch and is already in use by several special education teachers and speech therapists in special education schools, children therapy center and also by many parents/caregivers with their children in Australia, Canada, Czech Republic, Italy, Russia, Singapore, Spain, Taiwan, UK, US and other parts of the world. Available in English and Chinese and soon in other languages.
Find out more about the benefits and features of Picture AAC app at http://heartyspin.com/autism-apps/
About Hearty SPIN:
Hearty SPIN is a social enterprise that creates special education, learning and communication assistive technology apps for individuals with autism and other special needs worldwide. Based in Singapore, Hearty SPIN – Solutions for People In Need, strives to be a social entrepreneurship organization that attracts talented professionals, partnering together to provide solutions that will help and bring joy to people with special needs and their families worldwide.