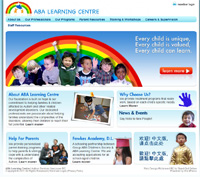 Vancouver, BC (PRWEB) December 01, 2011
VN Web Group, a Vancouver Internet Marketing Company is raising funds to benefit ABA Learning Centre during Autism Awareness Month in December. VN Web Group will donate 10% of all sales for the month of December to the GABA children's society for ABA Learning Centre.
ABA Learning Centre provides a wide range of exemplary services to families of children and youth with autism spectrum disorders and other complex developmental disabilities. Professionals at ABA Learning Centre are dedicated to providing quality services based on procedures validated in scientific literature. Applied Behaviour Analysis (ABA) is the foundation of intervention. Treatment programs are designed to each child's developmental needs in order to help the child reach his/her full potential.
ABA Learning Centre provides high quality, effective intervention programs including intensive behaviour intervention, social skills and play groups and, one-to-one direct instruction in academic skills development. The staff of ABA Learning Centre are skilled professionals who work together to support families by tailoring services that address their unique needs.
Above Autism is focused on increasing awareness of autism and raising funds for autism treatment. There are many specialized education programs that can help autistic children learn new social skills. Studies show that early intervention with treatments like Applied Behaviour Analysis (ABA) lead to the best results.
According to a new report from the Centers for Disease Control and Prevention, almost 1 percent of children have been diagnosed with autism and related disorders, and this number is expected to continue to rise. Autism is a complex disorder of neural development characterized by impaired social interaction and communication; the first signs of autism begin before a child is two or three years old.
VN Web Group is a leading internet marketing company in Vancouver. They provide Internet marketing, search engine optimization and website development services to businesses throughout North America. Furthermore, VN Web Group is dedicated to community involvement and supports a variety of initiatives in addition to raising autism awareness. For more information about how VN Web Group is supporting the community, please visit http://www.vnwebsolutions.ca
###