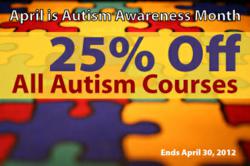 If every clinician who sees young children were alert and trained to detect possible ASD symptoms, we would be able to offer more families the benefits of early intervention.
Jacksonville, FL (PRWEB) April 04, 2012
Professional Development Resources is a national provider whose mission is to provide health care professionals with accredited continuing education home study courses on topics that are vital to contemporary clinical practice. Heading the list of clinical topics today is the group of conditions known as Autism Spectrum Disorders (ASD), which affects millions of families and demands early and aggressive intervention in the areas of language, behavior, and social skills.
According to the Centers for Disease Control and Prevention (CDC), ASDs are a "group of developmental disabilities that can cause significant social, communication and behavioral challenges. People with ASDs handle information in their brain differently than other people. ASDs are 'spectrum disorders,' meaning that they affect each person in different ways, and can range from very mild to severe." It is 4 to 5 times more common in boys, affecting 1 in 54 males compared with 1 in 252 females. People with ASDs share some similar symptoms, such as problems with social interaction, but there are differences in when the symptoms begin, how severe they are, and the exact nature of the symptoms.
Of particular concern as Autism month 2012 begins is a new and troubling CDC report, which states that more than 1%, or 1 in every 88 children age 4 - 21, is diagnosed with autism today. This is a 78% increase in 6 years (2002-2008) and a 10-fold (1000%) increase in reported prevalence over the last 40 years. The report states that "the extent to which these increases reflect better case ascertainment as a result of increases in awareness and access to services or true increases in prevalence of ASD symptoms is not known."
A further troubling finding of the CDC report is that many children with ASDs do not receive a diagnosis until they reach preschool or kindergarten age, missing opportunities for earlier therapies that could potentially improve communication and socialization while these skills are developing. It has been known for some time that early identification (birth to age 3) and intervention are essential to successful treatment for ASDs.
"One of the reasons we are featuring our autism courses this month is that we believe it is vital for all health professionals to be able to recognize the symptoms," says Leo Christie, PhD, CEO of Professional Development Resources. "If every clinician who sees young children were alert and trained to detect possible ASD symptoms, we would be able to offer more families the benefits of early intervention. That means beginning the process of parent education and child training while the child is still less than 3 years old."
In support of National Autism Awareness Month 2012, Professional Development Resources is offering special discounts on all of its autism courses during the month of April. It has also pledged to donate a portion of the proceeds from every autism course purchased to the Autism Society of America. The company offers an online catalog of over 200 accredited healthcare and mental health CE courses. Within this catalog, eight courses relate specifically to various aspects of ASD. They address the complexities of accurately diagnosing ASD and the many challenges of instituting successful intervention strategies, including parent education and involvement.
About Professional Development Resources, Inc.
Professional Development Resources is a Florida nonprofit educational corporation founded in 1992 by licensed marriage and family therapist Leo Christie, PhD. The company, which is accredited by the American Psychological Association (APA), the Association of Social Work Boards (ASWB), the National Board for Certified Counselors (NBCC), the American Speech-Language-Hearing Association (ASHA), the American Occupational Therapy Association (AOTA), and the Academy of Nutrition and Dietetics (formerly the American Dietetic Association) – as well as many other national and state boards – has focused its efforts on making continuing education courses more cost-effective and widely accessible to health professionals by offering online home study coursework. Its current expanded curriculum includes a wide variety of clinical topics intended to equip health professionals to offer state-of-the art services to their clients.
Contact:
Leo Christie, PhD, CEO
Professional Development Resources, Inc.
904-645-3456
http://www.pdresources.org/