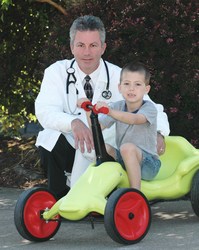 The efficacy of the Power Pumper as a treatment tool has been confirmed
Portland, OR (PRWEB) August 12, 2009
Columbia-Inland Corporation (CIC) today released the results of a lengthy evaluation of its children's mobility device, the Power Pumper http://www.powerpumper.com, as a treatment tool for children with disabilities. The seven year use by a major Durham, North Carolina children's therapy clinic has implications for pediatric occupational therapy treatment methods.
"The efficacy of the Power Pumper as a treatment tool has been confirmed," said Jodi Petry, MS, OTR/L, BCP, Pediatric Occupational Therapy Clinical Specialist, Durham, North Carolina-based clinic. "The Power Pumper increases trunk strength while providing benefits that other equipment does not, including: greater stability, a rhythmic timing pattern and an aerobic workout."
The Durham health systems clinic now uses two power pumpers for an average of 15 times per day in children's therapy sessions. The Power Pumper was found to be especially appropriate for children with the following diagnoses (diagnostic codes in parentheses): Childhood obesity (278), Autism (299), Sensory Processing disorders (337.9), Low tone (358.8), Decreased strength (728.87), Motor planning issues/lack of coordination (781.3), Deconditioning following illness (799.3).
"The Power Pumper is by far the most popular piece of physical therapy equipment in our inventory," said Petry. "We have found it to be very motivating to children who were reluctant to move their bodies and engage in active play."
Petry and her colleagues at the Durham, North Carolina clinic also use the Power Pumper as a tool to assess a child's ability to motor plan. They found it to be more durable than the other riding equipment in their inventory after seven years of virtually continuous use. Many parents have indicated they would like to have a Power Pumper to continue a child's goals as part of a home physical therapy program.
Parents, therapists or hospitals seeking funding to purchase the Power Pumper therapeutic device can go to http://www.powerpumper.com/get-funding-information, click on the funding tab, find their state and review the funding sources available. Or they can call 1-888-215-7867 (in Oregon, 1-503-657-6676) to ask how to connect with a facilitator.
The Power Pumper is an innovative, award-winning, therapeutic mobility device for children from age five to eleven. Its unique pumping action provides movement for both upper and lower extremities, and helps build trunk muscles. The Power Pumper <linkto: http://www.youtube.com/watch?v=mRc2yQN8D5A> is used in therapy and physical education activities for building endurance and muscle development.
About Columbia-Inland Corporation
Since 1996, the privately held Columbia Inland Corporation has designed, produced and marketed quality recreational and rehabilitation mobility devices that improve people's lives. The Power Pumper is popular with therapists, educators and parents because it improves the lives of people and children with disabilities. Children with developmental disabilities simply like it because it's a fun ride. The therapeutic success of the Power Pumper has strengthened the company's dedication to provide other innovative mobility products delivering the same high standards and producing similar results. For more information, visit http://www.powerpumper.com.
###