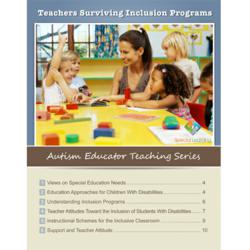 Chicago, IL (PRWEB) May 09, 2012
Special Learning, Inc., a comprehensive Autism solutions company, today announced the release of its Autism Educator Teaching Series eBook on "Teachers Surviving Inclusion Programs." The eighth offering in a series of Educator Teaching learning resources, this paper is designed to help teachers to create a motivating and stimulating learning environment for each student while minimizing learning and behavioral problems. There is a recognition that teacher training could do more to educate teachers to accommodate the learning needs of all students. One solution for redesigning teacher training programs to ensure all students are being served is to provide a common knowledge base with relevant experiences. This paper gives teachers a head start by bringing together the leading research on teacher strategies and special considerations for accommodating special education needs in inclusive settings.
Bringing together the leading research on special education needs, teachers will learn about key factors that can affect a child's learning success in inclusive settings, including the importance of early intervention, dysfunction arising from a mismatch in skills and curriculum requirements, the role of support systems, and the need for cooperation between teachers, students and parents. Recognizing that the effective management of an inclusion process must start before the child with Autism even enters the classroom, this eBook shows teachers how to prepare the child and build the foundation for a rich inclusive learning experience in the early days, from the child's introduction into the educational setting.
In addition to the most effective strategies for delivering lessons that reach out to every student in a class no matter what ability or disability he or she may have, numerous special considerations for teaching in inclusive settings are addressed, including:

Developing Individualized Educational Programs that respond to the child's special needs in an inclusive classroom
Using diverse materials and approaches that vary according to the learning challenges and special needs of the student
Managing special education as a continuum of services administered by a multidisciplinary team
Recognizing the role of positive teacher attitudes in supporting successful inclusion programs
This Educator Teaching Series eBook is a learning resource and reading companion aimed not only at teachers but also parents and other individuals in the life of the child with Autism and other special needs. It provides a practical guide to Inclusion, the current trend in schools that have chosen to embrace diversity in their classrooms. Mastering inclusion in the classroom entails teachers learning special skills to deal with students of various backgrounds, abilities and disabilities. This eBook will serve as valuable support as teachers learn proven strategies to become more successful in the implementation of Inclusion in their classrooms.
About the Educator Teaching Series eBook
Special Learning's Educator Teaching Series is a set of downloadable eBooks for educators, parents, practitioners and other individuals involved in the care and education of children with Autism or other developmental disabilities. These well-researched books are written specifically for those individuals involved in educating individuals with special needs and provide relevant information and guidance. Apart from theoretical information, these eBooks provide practical advice and examples that can be applied immediately by the readers.
About Special Learning (http://www.special-learning.com)
Special Learning is dedicated to becoming the global leader for Autism and Applied Behavior Analysis (ABA) solutions by leveraging technology to offer every person diagnosed with an Autism Spectrum Disorder (ASD) the opportunity to attain an abundant and fulfilling life. Through its comprehensive information and resource portal, Special Learning provides the global Autism community with a broad range of free products, tools and services. Its comprehensive product line includes ABA training and education products, iPhone and Android Apps, web-based and downloadable tools, and professional services designed to empower parents, teachers and providers so that they can help individuals with Autism move up the skills spectrum intuitively, successfully and affordably.