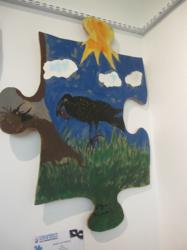 We are excited that we can continue to contribute to the Columbus Arts Ball's fundraising efforts. We applaud the organization's commitment in supporting and recognizing the many talents and contributions of individuals with ASD to the arts, said Root.
Columbus, Ohio (PRWEB) August 24, 2012
Step By Step Academy demonstrated its ongoing support and commitment to the autism community by participating in the Columbus Arts second annual masquerade charity ball held on August 11, 2012 at the Bluestone in Columbus to benefit the Autism Society of Central Ohio. The large fundraising event helped earn contributions and money to assist local individuals diagnosed with Autism Spectrum Disorder (ASD). The Columbus Arts Ball has been successful in carrying out its philanthropic mission to raise money for local charities by gathering home-grown talented musicians, artists and fashion designers together for a notable cause. Through large community involvement, ticket sales, sponsorships and silent auctions, the Columbus Arts Ball is able to continue giving back to the community it cherishes.
Those who attended the black and white attired event wore colorful masquerade masks as they listened to live music from the 80s and 90s provided by local musicians and bands. Guests also enjoyed a fashion show featuring local fashion designers. The silent auction, a popular event, successfully contributed to the fundraising effort. The auction showcased some very notable art including an array of large painted wooden puzzle pieces, the iconic symbol for autism awareness, contributed by individuals with ASD, family members of individuals with ASD, organizations that serve individuals with ASD, and local artists. A very unique puzzle piece depicting a crow, painted by Elijah Thomas, a student from Step By Step Academy, was sold successfully.
In attendance was Marla Root, executive vice president of the Elijah Glen Center, a new venture by Step By Step Academy that provides the significantly underserved population of adolescents and adults with Autism Spectrum Disorder (ASD) and individuals with an intellectual or developmental disability who require restrictive short-term inpatient or step down care program to stabilize and to reunify back into their family's life. Step By Step Academy was proud to see all of the efforts of the local artists, including students like Elijah Thomas, helping to make a lasting contribution to autism awareness.
For additional information on the Columbus Arts Ball, please visit http://www.columbusartsball.com.
For additional information on Step By Step Academy please visit http://www.stepbystepacademy.org.
About Step By Step Academy Inc.
Step By Step Academy (SBSA) is a private, non-profit treatment center for individuals with Autism Spectrum Disorder (ASD). Using their Continuum of Care™ model, they offer a range of services designed to diagnose the nature and extent of the condition and provide the appropriate treatment and environment across the spectrum for children, adolescents and young adults. In addition to center-based programs, SBSA offers direct services to the community including assessment, intensive behavioral intervention treatment, speech, psychology, and psychiatric services as well as parent advocacy, case management, counseling, and parent and professional trainings. SBSA has several partnerships with local school districts to provide successful behavioral intervention programs directly within a school setting.