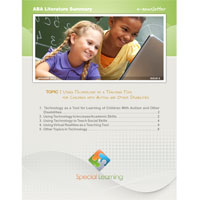 Chicago, IL (PRWEB) February 07, 2012
Special Learning, Inc. a comprehensive autism solutions company announces today the release of its January 2012 ABA Literature Summary entitled Using Technology as a Teaching Tool for Children with Autism and Other Disabilities. This issue of the Special Learning Literature Summary looks into the relevance and studies involved in the use of modern technology as an effective tool to enhancing the academic and social skills of children with autism and other special needs.
The January ABA Literature Summary was written to provide an initial overview or introduction to learning, and as reading materials for parents, educators, and those wanting to know (1) what are the available technologies, (2) what types of technologies are effective in addressing academic and social learning needs, (3) when is it best applied, and (4) how these can be applied effectively. When applicable, these summaries also include a brief overview on the methodologies used in the study and the expected results or outcomes in the use of specific technology. Main topics in this issue include: Using Technology to Increase Academic Skills; Using Technology to Teach Social Skills, Using Virtual Realities as a Teaching Tool and Other Topics in Technology.
About the ABA Literature Summary
Special Learning's ABA Literature Summary is a monthly newsletter covering various topics that are helpful and informative to BCBA's, educators and parents who prefer advanced reading about Applied Behavior Analysis and Autism Spectrum Disorder. Each Literature Summary is developed by conducting an extensive literature review of research articles from reliable sources and written by licensed BCBA's and other industry experts. It contains the latest facts and updates about different subject matters that are relevant to professionals in the industry. By subscribing to Special Learning's ABA Literature Summary, users can conveniently receive crucial and up-to-date information about ABA and ASD in their eMail inbox.
About Special Learning (http://www.special-learning.com)
Special Learning is dedicated to becoming the global leader for Autism and Applied Behavior Analysis (ABA) solutions by leveraging technology to offer every person diagnosed with Autism Spectrum Disorder (ASD) attain an abundant and fulfilling life. Through their comprehensive information and resource portal, Special Learning provides the global Autism community with a broad range of free products, tools and services. Their comprehensive product line includes ABA training & education products, iPhone Apps, web-based & downloadable tools, and professional services designed to empower parents, teachers and providers so that they can help individuals with Autism move up the skills spectrum intuitively, successfully and affordably.
###