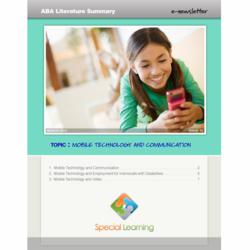 Chicago, IL (PRWEB) April 18, 2012
Special Learning, Inc., an online comprehensive Autism solutions company, announces the release of its newest ABA Literary Summary "Mobile Technology and Communication." The latest in their downloadable newsletter updates on ABA research and practice focuses on the hugely popular and rapidly growing learning delivery platform of mobile technologies. With so many new products and applications being introduced to the market, ABA therapists are seeking information and ideas on how to best utilize mobile technologies when teaching and interacting with children with Autism.
Mobile technology is helping those with a lack of ability to easily communicate to increase their level of functioning in society and participate more fully in daily activities. For ABA therapists, educators and parents, mobile technology has become an indispensable learning tool that is greatly enhancing the learning experience for the teacher and student with Autism. The rapidly growing choice of technology and applications, however, is creating a steepening learning curve for ABA therapists seeking to keep up on innovative uses for iPods, cell phones, social networking tools, GPS, instant messaging and a myriad of other mobile communication tools.
This literature summary profiles impressive progress across a range of mobile technologies and applications, including:

Special messaging technology
Mobile technology and sign language
Display of icons in an application
Mobile location-based social networking
Video iPods in employment settings
Video modeling and prompting
Therapists will benefit from summaries that evaluate mobile technologies and applications across a wide range of attributes, including user friendliness, improved and independent communication, screen size and applications, and user mobility.
The ABA Literature Summary series is developed by reviewing and summarizing the most relevant and reliable literature articles on various advanced topics to help BCBA's stay current on advancements in the industry. It is also appropriate for educators and even for parents who are looking for advanced reading on Applied Behavior Analysis (ABA) and Autism Spectrum Disorder. Each Literature Summary is compiled after an extensive literature review of credible sources and written by licensed BCBA's and other industry experts. It contains the latest facts and updates on monthly subject matters of interest to enhance the knowledge of experts in the industry.
About Special Learning (http://www.special-learning.com)
Special Learning is dedicated to becoming the global leader for Autism and Applied Behavior Analysis (ABA) solutions by leveraging technology to offer every person diagnosed with Autism Spectrum Disorder (ASD) the opportunity to attain an abundant and fulfilling life. Through their comprehensive information and resource portal, Special Learning provides the global Autism community with a broad range of free products, tools and services. Their comprehensive product line includes ABA training & education products, iPhone Apps, web-based & downloadable tools, and professional services designed to empower parents, teachers and providers so that they can help individuals with Autism move up the skills spectrum intuitively, successfully and affordably.