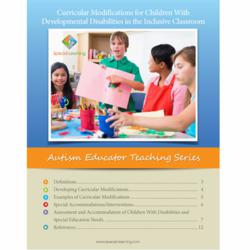 Chicago, IL (PRWEB) April 02, 2012
Special Learning, Inc., a comprehensive Autism solutions company, today announced the release of its Educator Teaching Series eBook on "Curricular Modifications for Children With Developmental Disabilities in the Inclusive Classroom." The sixth offering in a series of Educator Teaching learning resources, this eBook guides teachers in the inclusion of students with special education needs in the classroom, and provides helpful information on how to modify the curriculum to make it developmentally appropriate without affecting the regular program of typically developing children who belong to the same class. Teachers will learn techniques on how to design curriculum to optimize the competencies of students with developmental disabilities.
A strong and flexible curriculum is the foundation for successfully managing a wide span of learning abilities in a classroom. With the help of examples and charts, this eBook will show you how to accommodate the needs of each and every learner in an inclusive classroom. To enable children to cope and excel at learning tasks, teachers will learn how to:

Modify individualized education plans for the inclusive classroom, with examples by subject
Include input from professional evaluations, teacher assessments and parental feedback
Incorporate special accommodations and interventions (e.g., special classes, equipment, assistants)
Use authentic skills analysis and rubrics to monitor skills and competency development
Regularly monitor modifications for their appropriateness, feasibility and flexibility
This Educator Teaching Series eBook is a learning resource and reading companion aimed not only at teachers but also parents and other individuals in the life of the child with Autism and other special needs. It provides a practical guide to Inclusion, the current trend in schools that have chosen to embrace diversity in their classrooms. Mastering inclusion in the classroom entails teachers learning special skills to deal with students of various backgrounds, abilities and disabilities. This eBook will serve as valuable support as teachers learn proven strategies to be more successful in the implementation of Inclusion in their classrooms.
About the Educator Teaching Series eBook
Special Learning's Educator Teaching Series is a set of downloadable eBooks for educators, parents, practitioners and other individuals involved in the care and education of children with Autism or other developmental disabilities. These well-researched books are written specifically for those individuals involved in educating individuals with special needs and provide relevant information and guidance. Apart from theoretical information, these eBooks provide practical advice and examples that can be applied immediately by the readers.
About Special Learning (http://www.special-learning.com)
Special Learning is dedicated to becoming the global leader for Autism and Applied Behavior Analysis (ABA) solutions by leveraging technology to offer every person diagnosed with an Autism Spectrum Disorder (ASD) the opportunity to attain an abundant and fulfilling life. Through its comprehensive information and resource portal, Special Learning provides the global Autism community with a broad range of free products, tools and services. Its comprehensive product line includes ABA training and education products, iPhone Apps, web-based and downloadable tools, and professional services designed to empower parents, teachers and providers so that they can help individuals with Autism move up the skills spectrum intuitively, successfully and affordably.