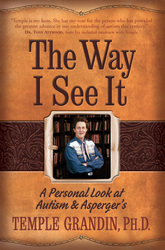 Arlington, TX (PRWEB) September 10, 2008
Author of best-selling books Thinking in Pictures (100,000+ copies sold per Bookscan) and Animals in Translation (200,000+ copies sold), Dr. Temple Grandin offers helpful do's and don'ts, practical strategies, and try-it-now tips, all based on her "insider" perspective and a great deal of research.
As many as 1.5 million children and adults in the U.S. have autism. The lifetime cost of caring for a child with autism ranges from $3.5--$5 million. The world needs to listen to what Temple Grandin has to say. These are just some of the specific topics Temple delves into:

How and Why People with Autism Think Differently
Economical Early Intervention Programs that Work
How Sensory Sensitivities Affect Learning
Behaviors Caused by a Disability vs. Just Bad Behaviors
Teaching People with Autism to Live in an Unpredictable World
Alternative Medicine vs. Conventional Medicine
Employment Ideas for Adults with Autism
And many more!
Herself diagnosed with autistic tendencies as a child, Dr. Grandin rose above the disability to become a college professor as well as a world leader in two entirely different fields, animal handling and autism. She is one of the few people in the world respected in such divergent fields, a compliment to her intelligence and drive to succeed.
"Every library, large or small, needs this book on its shelves. Every school, large or small, with the responsibility of educating children with autism or Asperger's needs the guidance this book offers. . . . Last, and certainly not least, every parent will find within these pages golden nuggets of advice, encouragement, and hope to fuel their day-to-day journey through their child's autism. . . . The wisdom she offers through this book and its personal reflections on autism will, I'm sure, ring true for many more decades to come."---Ruth Christ Sullivan, first elected president of the Autism Society of America
Future Horizons is the world leader in publications on autism and related childhood disorders.
http://www.FHautism.com
Contact:
Lyn Dunsavage Young
Future Horizons, Inc.
800-489-0727
###