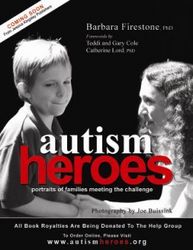 The demand for the most current information regarding research and best practices in neurodevelopmental disabilities continues to grow at an exponential rate. The Summit is a unique forum that brings together an extraordinary group of thought leaders in the field to share their knowledge and expertise
Los Angeles, CA (PRWEB) October 1, 2007
On Friday, October 5th and Saturday , October 6th at The Skirball Cultural Center in Los Angeles, The Help Group will be hosting its Summit 2007, Advances and Best Practices in Autism, Learning Disabilities and ADHD. This cutting edge conference features more than 20 of today's leading experts. The Help Group (http://www.thehelpgroup.org), is the largest and most comprehensive nonprofit of its kind in the United States serving children with special needs related to autism spectrum disorders, learning disabilities, attention deficit/hyperactivity disorder, mental retardation, abuse and emotional problems.
Dr. Barbara Firestone, President and CEO of The Help Group, and Vice Chair of the California Legislative Blue Ribbon Commission on Autism, Dr. Paul Satz, Professor Emeritus, Semel Institute for Neuroscience & Human Behavior and Dr. Peter Whybrow, Director, Semel Institute for Neuroscience and Human Behavior at The Geffen School of Medicine at UCLA serve as Summit co-chairs. The Help Group Summit 2007 is generously sponsored by First 5 California and will be attended by more than 500 professionals and parents.
"The demand for the most current information regarding research and best practices in neurodevelopmental disabilities continues to grow at an exponential rate. The Summit is a unique forum that brings together an extraordinary group of thought leaders in the field to share their knowledge and expertise," said Dr. Firestone.
This year's Summit features Dr. David G. Amaral, Dr. Bruce L. Baker, Dr. Thomas E. Brown, Dr. Eileen Costello, Dr. Eric Courchesne, Dr. Diane M. Danis, Dr. Dean C. Delis, Dr. Peter F. Gerhardt, Dr. Philip Levin, Dr. Catherine Lord, Dr. Sara McCracken, Dr. Rollanda E. O'Connor, Dr. Derek A. Ott, Dr. Isaac N. Pessah, Dr. Laura Schreibman, Dr. Larry Seidman, Dr. Bhavik G. Shah, Dr. Susan L. Smalley and Dr. Louis A. Vismara.
During the luncheon program, Dr. Firestone will introduce The Help Group National Autism Foundation's public service announcement campaign featuring Los Angeles Mayor Antonio R. Villaraigosa. The Foundation was established to promote autism awareness, early identification and intervention, education and treatment of autism spectrum disorders.
Dr. Firestone will present The Help Group's Autism Heroes Award to The Help Group's National Celebrity Spokesperson, actor Gary Cole and his wife Teddi, in recognition of their heartfelt commitment in bringing the message of hope and help to children and families living with autism. The Coles have written the foreword for Dr. Barbara Firestone's new book, Autism Heroes: Portraits of Families Meeting the Challenge, and they are one of the 38 families highlighted in this compelling account of parents confronting the challenges of autism. Dr. Firestone's book will be available for the first time at the Summit and is scheduled to be released in stores on November 1, 2007. Gary Cole is starring in the upcoming HBO series, "12 Miles of Bad Road" with Lily Tomlin and Mary Kay Place to premier in the winter of 2007.
During the luncheon proceedings, The Help Group will be presenting this year's Media Excellence Award to ABC 7. The Help Group established its Media Excellence Award to recognize individuals and/or organizations who have demonstrated a commitment to providing quality information to promote the public's understanding of the issues that confront children with special needs and their families. Colleague and friend to The Help Group, news anchor, Phillip Palmer will accept the award on behalf of this year's honoree, ABC 7.
For more information about The Help Group's Summit 2007 and The Help Group, http://www.thehelpgroup.org, please call 818-779-5212.
About The Help Group:
Founded in 1975, The Help Group is the largest, most innovative and comprehensive organization of its kind in the United States serving children with special needs related to autism, Asperger's disorder, learning disabilities, ADHD, mental retardation, abuse and emotional problems. The Help Group's six specialized day schools offer pre-K through high school programs for more than 1,300 students. The Help Group's wide range of mental health and therapy services, child abuse and residential programs extend its reach to more than 5,000 children and their families each year. With over 800 staff members, The Help Group's state-of-the-art schools and programs are located on four major campuses in the Los Angeles area. Through its professional training programs and efforts at the state and national levels, The Help Group touches the lives of children with special needs across the country and in other parts of the world. At the heart of its effort is its commitment to helping young people fulfill their potential to lead positive, productive and rewarding lives.
###