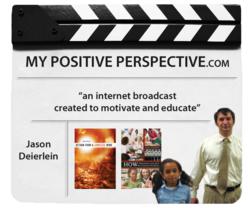 "According to a recent study, one in every 88 children have some form of Autism"
Charleston, SC (PRWEB) April 18, 2012
April, 2012, is autism awareness month, and in recognition of this event, My Positive Perspective has put together an episode that raises awareness to this disease which according to studies affects one in every 88 children. The challenging things associated with autism are the affects it has and how the symptoms are unique to every child. As a result of this, treatments need to be unique and individualized to that particular child as well. Physical and occupational therapies as well as different behavior modifications are combined with sensory and memory tests in order to properly determine where an imbalance is occurring and what the best method(s) of treating it will be.
The cost of maintaining a child with Autism is averaged around $65,000 yearly, and that figure does not include treating the disease, it merely covers the cost of medication, therapy, and individualized care required for a child with Autism. In an effort to raise money to help some of these families out, "My Positive Perspective" is pleased to announce the walk for autism foundation whose goal is to provide scholarships and funding for families and care givers of children with Autism.
"The rate of Autism is on the rise partly because doctors and the medical field in general have gotten better at recognizing the symptoms," says Doctor Matt, who is one of the organizers of the Walk for Autism. "In addition, we are also are conceding that there are environmental and genetic causes for this disease." In other words, one can be born with Autism and/or it can be acquired through results of long term medication that changes a person's neurologic makeup.
As in nearly all diseases, the earlier Autism can be diagnosed and treated, the greater the results of therapy will be. The month of April allows our culture a chance to be made aware of the symptoms of Autism and hopefully our population will take advantage of this.