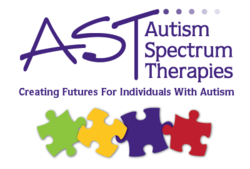 With a strong presence in the autism clinical and research communities, AST continues to make a positive impact on a national basis.
Culver City, California (PRWEB) November 10, 2011
Autism Spectrum Therapies (AST), understands how hard it is to manage the stress of the holidays and maintain routines that are critical to children who are on the autism spectrum. However, with a little planning and a mindset toward teamwork, families can reduce stress this holiday season. In order to help you with this planning process our expert therapists put together a list of tips for maintaining order and routine during the holidays.
Top Five Holiday Tips
1. Work as a team to preserve critical routines

As a family have a pre-holiday meeting & strategize ways to preserve critical routines throughout the holiday season
Remind all family members and friends to work as a team during the holidays
Use social stories to ease into major changes in routines
Use visual supports to demonstrate the sequence of events for complicated days
2. Ease into decorating

Start decorating early and in stages rather than changing the entire home all at once
Allow children to interact with the decorations and help put them in place
If you are unsure how your child will react to holiday decorations, let them experience those decorations in a store or someone else's home first
3. Plan Your Shopping Time

Minimize last-minute shopping. For children who rely on routines and react to abrupt changes, unexpected shopping trips can be stressful
If your child will accompany you during holiday shopping, plan enough time to allow them to gradually adapt to the intense holiday stimuli found in many stores
4. Gifts

If you put gifts under a tree prepare ahead of time by teaching children that gifts should not be opened without the family
In the lead up to the holidays give your child an empty wrapped box, and reward them for not opening it
Wait until the holiday is close to put out all of the gifts, especially large, tempting ones
When opening gifts as a family use an object, such as a small ornament, to show whose turn it is. The individual holding the object should be the one to open the next gift
5. After the Gifts are opened

Other's gifts look fun too! Prepare siblings and young relatives to share their new gifts with others
Consider letting your child have his or her own space to explore gifts away from the temptation of other children's toys
Leave plenty of time for play. With new gifts in hand it might not be time for another transition
To download the full tip sheet or for more general information about AST and our ABA services visit our website at http://www.autismtherapies.com/holiday_tip_sheet You can also find us on FaceBook and Twitter.
About Autism Spectrum Therapies
Autism Spectrum Therapies (AST) provides services to infants, children and adults with developmental disabilities, as well as young children who are at risk. AST's family friendly approach is rooted in Applied Behavior Analysis, which has the strongest and broadest evidence-base. The company provides services in family's homes, communities, and schools.
AST is committed to being the premier provider of services to individuals with developmental needs at a national level. Through the use of scientifically proven methods, AST has had a major impact on the lives of thousands of children and their families. Programs are available for clients from infancy to adulthood. AST's programs address all developmental needs, including language development, social skills, and building independence across the lifespan.
AST is proud of its prestigious leadership and uniquely trained staff. The company has over 500 employees including an unprecedented number of Ph.D.'s and over 60 Board Certified Behavior Analysts, Speech Pathologists and Occupational Therapists on staff. With a strong presence in the autism clinical and research communities, AST continues to make a positive impact on a national basis.
We invite you to explore our website http://www.autismtherapies.com and discover how Autism Spectrum Therapies is helping individuals with autism achieve their full potential.
###