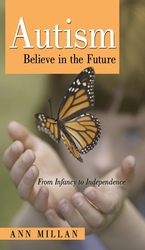 We were shocked that food could make such a difference
Palm Harbor, FL (Vocus) November 3, 2010
Raising a child with classic autism is a challenging, alternately frustrating and rewarding experience. Severe cases pose their own specific set of obstacles, and the course of treatment is often to excuse inappropriate behavior and sequester the child from mainstream activities. But what if the most effective course of action involves normalizing the child as much as possible? It changed one mother's life, and in her new book, Autism – Believe in the Future: From Infancy to Independence (published by iUniverse), Ann Millan shares her story so that others can learn from her experiences.
As Millan's youngest daughter, Robin, progressed through infancy, all Millan wanted to do was stop the screaming, rocking and self-destructive behaviors symptomatic of Robin's autism. At two years old, she was enrolled in the Muriel Humphrey School for Retarded Children, and a subsequent change to her diet – the elimination of all preservatives and food colorings – prescribed by Dr. Benjamin Feingold, a pediatric allergist, dramatically improved the screaming and hyperactivity. "We were shocked that food could make such a difference," Millan writes.
After spending several years in public schools, Robin's treatment took a life-altering turn after an evaluation at the Children's Hospital National Medical Center in Washington, DC. "They said we had choices," Millan recalls. "Robin could remain in her own little world or we could bring her into our world. We chose the latter."
The Millan's choice to socialize Robin into the community offers real-life proof of the effectiveness of the treatment. She started 4-H, became a baton majorette, began volunteer work and eventually returned to public school following dedicated homeschooling from her mother. After graduating from high school with a certificate of attendance, Robin and her parents relocated to Florida and the slow progression to independent adulthood began.
With the help of numerous organizations, Robin received the services she needed to be successful and self-reliant. The Defeat Autism Now (DAN) protocol she follows includes vitamins, supplements and a gluten-free diet.
Follow Robin as she gets a job, a promotion, a boyfriend, an apartment and more. "For people with autism, education is much more than academics," Millan writes. "Teaching everyday life lessons that include responsibility, desire and friendship are critical."
About the Author
Ann Millan has been a disability advocate at local, state and federal levels for more than 40 years. She has served as president and board member of many disability organizations focusing on parent education and has created programs to benefit individuals with developmental disabilities. She and her husband, Bob, have three daughters. Autism – Believe in the Future is her first book.
For more information, please visit http://www.autism-believe-future.com.
iUniverse is a premier book publisher for emerging, self-published authors. For more information, please visit http://www.iuniverse.com.
# # #