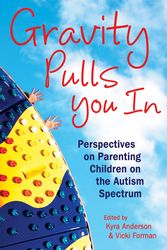 Bethesda, MD (Vocus) October 20, 2010
The Mom's Choice Awards® has awarded Gravity Pulls You In: Perspectives on Parenting Children on the Autism Spectrum GOLD in Parenting – Special & Exceptional Needs. The Mom's Choice Awards® (MCA) is an awards program that recognizes authors, inventors, companies, parents and others for their efforts in creating quality family-friendly media, products and services. Parents, educators, librarians and retailers rely on MCA evaluations when selecting quality materials for children and families.
In the 33 heartfelt essays and poems of Gravity Pulls You In, mothers and fathers raising children with autism explore their lives in the context of autism's own special gravity, discovering what's important and what they find centering. Their slice-of-life depictions are a refreshing departure from the usual diagnosis/grief/acceptance arc of many autism accounts, and serve as a reminder that life is lived in the many small, everyday moments. Readers are invited into contributors' lives where they're sure to find an attitude, a circumstance, an epiphany they can relate to.
Full of exceptional writing, the book's strength also lies in its multiple perspectives of living with and loving someone with autism, giving readers a more complete sense of autism. As the editors and contributors convey, it is through one conversation at a time, one essay at a time, one poem at a time, that we as a community and society can truly see and embrace the diversity that exists within a population of kids that seem "other".
About the editors:
Kyra Anderson chronicles life as a home-schooling mom and writer on her blog, thismom.com. Her work has appeared in Tiny Lights, Bust Out, and other magazines. She's currently at work on her memoir, How My Son's Asperger's Saved My Ass. Kyra and her family live in New England.
Vicki Forman
is the author of This Lovely Life: A Memoir of Premature Motherhood, winner of the Bread Loaf Writers Conference Bakeless Prize. Her work has appeared in the Seneca Review, the Santa Monica Review, and the anthologies, Love You to Pieces: Creative Writers on Raising a Child with Special Needs and Literary Mama: Reading for the Maternally Inclined. Vicki and her family live outside Los Angeles.
Available from http://www.woodbinehouse.com, http://www.amazon.com , http://www.barnesandnoble.com
$19.95 / Paperback / isbn 978-1-60613-002-5
To request an interview with the editors or a review copy, contact:
Woodbine House 800-843-7323 http://www.woodbinehouse.com
Beth Binns/Marketing Department bbinns(at)woodbinehouse(dot)com
###