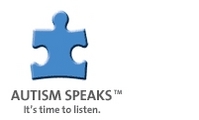 "We are very fortunate to have this remarkable group of partners who share our passion for making life better for individuals with autism and their families," said Mark Roithmayr, president of Autism Speaks.
New York, NY (PRWEB) March 23, 2010
Autism Speaks, the nation's largest autism science and advocacy organization, today announced a series of awareness and fundraising initiatives involving a range of corporate and philanthropic partners that will take place throughout Autism Awareness Month in April.
"We are very fortunate to have this remarkable group of partners who share our passion for making life better for individuals with autism and their families," said Mark Roithmayr, president of Autism Speaks. "Our thanks go to the leadership of these companies, but also to their employees, who invest so much time and bring tremendous enthusiasm to the cause of autism advocacy."
The 2010 Toys"R"Us fundraising campaign to benefit Autism Speaks launched on February 28 and continues through Friday, April 30. Since the partnership launched in 2007, Toys"R"Us, Inc., the Toys"R"Us Children's Fund and customer contributions have combined to provide Autism Speaks with more than $5.5 million. Throughout the nine-week effort, donations will be collected in all Toys"R"Us and Babies"R"Us stores in the U.S. and Canada and online at Toysrus.com/AutismSpeaks. Additionally, the company created the "Ten Toys That Speak To Autism," a special subset of the annual Toys"R"Us Toy Guide for Differently-Abled Kids, to highlight toys that can help children with autism develop language, creativity and social skills, among others, while playing alongside siblings and friends. Information about the 2010 campaign – including the "Ten Toys That Speak To Autism" and a full list of Safe Play Tips, as well as a blog titled "Speaking About Autism" – is available at Toysrus.com/AutismSpeaks.
In addition to the fundraising campaign, Toys"R"Us is kicking off its national sponsorship of Walk Now for Autism Speaks, a year-long series of more than 80 walk events in communities throughout North America. All funds raised in Toys"R"Us and Babies"R"Us stores, online and through the Walk Now for Autism Speaks events will go directly to Autism Speaks to support research and advocacy efforts. In February, the Toys"R"Us Children's Fund kicked off the 2010 campaign by providing a $400,000 grant to Autism Speaks. Customers who donate $10 or more to Autism Speaks at any Toys"R"Us or Babies"R"Us store in the U.S. will receive a colorful floral-themed reusable shopping bag designed by a talented artist with autism, James Hogarth, while supplies last.
On Saturday, April 3, autism advocates Holly Robinson-Peete (an Autism Speaks board member) and Rodney Peete will sign their new books at Toys"R"Us Times Square in Manhattan. The store's "GeoffreyTron" electronic billboard will display information about the fundraising campaign to support Autism Speaks throughout the month of April.
Autism Speaks and retailer T.J. Maxx will, once again, partner in April on a fundraising and awareness effort. For three weeks, beginning April 11 at 880 T.J. Maxx stores nationwide, customers will be invited to purchase an Autism Speaks puzzle piece at checkout for a donation of $1. All proceeds will benefit Autism Speaks and customers will be able to pick up information about autism.
For the second year, chocolatier Lindt & Sprüngli is donating 10 cents for every Lindt Gold Bunny sold in leading grocery stores and its own retail stores leading up to Easter for up to a $100,000 donation. As part of this promotion, Lindt is auctioning off special celebrity-autographed porcelain bunnies with all proceeds benefiting Autism Speaks. Additionally, the company is participating in Autism Speaks' Light It Up Blue campaign at many of its retail outlets, and will hold its second annual Unsung Heroes of Autism Awards on April 1 at the New York Palace hotel.
Modell's Sporting Goods stores will launch its fifth annual four-week in-store campaign in April to raise funds and awareness for Autism Speaks. Customers at 144 Modell's store locations throughout the Northeast will be able to purchase $1 Autism Speaks puzzle pieces at check-out, with all proceeds being directed towards autism research.
Build-A-Bear Workshop and Autism Speaks are also teaming up for the sixth consecutive year. During the month of April, customers at its stores in the U.S. and Canada will have the opportunity to make a donation to Autism Speaks at check-out. All stores will also offer customers printed information about autism.
All 8,800 Dollar General stores will give customers the opportunity to donate $1 to Autism Speaks at check-out. Dollar General's NASCAR and IRL cars will carry the Autism Speaks blue puzzle piece logo during April races. Dollar General also donated $50,000 and will make an additional $50,000 donation to Autism Speaks for every race won by either Dollar General car in April.
Once again, Ask.com will feature Autism Speaks on its home page throughout the month of April and will be entirely blue on April 1. Visitors to Ask.com will be able to participate in a Q&A that earns donations for Autism Speaks.
Casey's General Stores, for the first time, will sell puzzle pieces for $1 at its over 1,500 stores in nine mid-western states to benefit Autism Speaks.
NEST Home Fragrances has launched its Autism Speaks-branded Blue Garden candle in celebration of the 5th Anniversary of Autism Speaks. Sold through Nieman Marcus, Nieman Marcus.com, Bergdorf Goodman and many small boutiques across the country, this scented candle will also be used by retailers to participate in the Light It Up Blue campaign for World Autism Awareness Day and Autism Awareness Month. All net proceeds from sales of the candle will benefit Autism Speaks.
For the first time, all White Castle stores will participate in an in-store puzzle piece fundraising and awareness campaign. The campaign will roll out region-by-region beginning this spring.
Hy-Vee stores will distribute more than three million plastic grocery store bags with the Autism Speaks logo and awareness facts throughout April. With sales of more than $6.4 billion and more than 228 retail stores across eight Midwestern states, Hy-Vee ranks among the top 30 supermarket chains in the nation. Hy-Vee is also a sponsor of the Iowa Walk Now for Autism Speaks on June 19. During the week of April 19-25, a percentage of sales will be donated to the Walk.
Throughout the month of April, a group of 14 Panera Bread stores in the Blue Ridge Mountains of Virginia and in Memphis, Tenn. will be giving customers the opportunity to donate to Autism Speaks, and will also donate all proceeds from the sale of Blueberry bagels and a new Wildberry smoothie to the organization. Special blue bracelets will be available for $1. The participating stores have teamed up with local groups to support their fundraising efforts throughout March and April; the stores will also hold seminars about autism.
About Autism
Autism is a complex neurobiological disorder that inhibits a person's ability to communicate and develop social relationships, and is often accompanied by behavioral challenges. Autism spectrum disorders are diagnosed in one in 110 children in the United States, affecting four times as many boys as girls. The prevalence of autism increased 57 percent from 2002 to 2006. The Centers for Disease Control and Prevention have called autism a national public health crisis whose cause and cure remain unknown.
About Autism Speaks
Autism Speaks is North America's largest autism science and advocacy organization. Since its inception only five short years ago, Autism Speaks has made enormous strides, committing over $142.5 million to research and developing innovative new resources for families through 2014. The organization is dedicated to funding research into the causes, prevention, treatments and a cure for autism; increasing awareness of autism spectrum disorders; and advocating for the needs of individuals with autism and their families. In addition to funding research, Autism Speaks also supports the Autism Treatment Network, Autism Genetic Resource Exchange and several other scientific and clinical programs. Notable awareness initiatives include the establishment of the annual United Nations-sanctioned World Autism Awareness Day on April 2 and an award-winning "Learn the Signs" campaign with the Ad Council which has received over $210 million in donated media. Autism Speaks' family resources include the Autism Video Glossary, a 100 Day Kit for newly-diagnosed families, a School Community Tool Kit, a community grant program and much more. Autism Speaks has played a critical role in securing federal legislation to advance the government's response to autism, and has successfully advocated for insurance reform to cover behavioral treatments. Each year Walk Now for Autism Speaks events are held in more than 80 cities across North America. To learn more about Autism Speaks, please visit http://www.autismspeaks.org.
About the Co-Founders
Autism Speaks was founded in February 2005 by Suzanne and Bob Wright, the grandparents of a child with autism. Bob Wright is Senior Advisor at Lee Equity Partners and served as vice chairman, General Electric, and chief executive officer of NBC and NBC Universal for more than twenty years. He also serves on the boards of the Polo Ralph Lauren Corporation, RAND Corporation and the New York Presbyterian Hospital. Suzanne Wright has an extensive history of active involvement in community and philanthropic endeavors, mostly directed toward helping children. She serves on the boards of several non-profit organizations and is also Trustee Emeritus of Sarah Lawrence College, her alma mater. Suzanne has received numerous awards such as the CHILD Magazine Children's Champions Award, Luella Bennack Volunteer Award, Spirit of Achievement award by the Albert Einstein College of Medicine's National Women's Division and the Weizmann Institute of Science. In 2008, the Wrights were named to the Time 100 list of the most influential people in the world for their commitment to global autism advocacy.
###