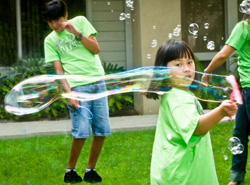 Culver City, CA (PRWEB) June 19, 2012
Autism Spectrum Therapies (AST) knows that summertime offers both wonderful opportunities and difficult challenges for all parents. For parents of children with special needs both are intensely magnified. Children with an autism spectrum disorder (ASD) do best with structure within their environment and a lack of routine during the summer months can wreak havoc on the family dynamic. However, with careful planning and discussion families can alleviate stress and live a little more carefree during the summer months. The experts at AST have compiled some helpful tips for creating a positive summer break experience for both children and parents.
Plan and Discuss Ahead of Time
Before summer arrives discuss any changes and plans that might occur. Give your child multiple opportunities to ask questions and to process what their summer may look like. Find out if there are activities that he or she might like to explore. Offer examples and be prepared to discuss details of what might be expected.
Consider a Daily Schedule
Schedules are often difficult to create and maintain, but having one in place can be a huge stress reducer. Your child may be used to a morning schedule before school, a predictable school schedule, and consistent after school routines. The summer will undo much of that. So having a schedule in place can give some comfort and predictability. It can also allow you to program important goals, such as practicing social skills, keeping up with academics, and keeping him away from video games and TV. Ideally an outside activity such as sports would be on the schedule each day. Even if they are not participating on a team they can have a sports activity scheduled that they can perform in the yard, at a gym, or on a play date. In addition to obvious health benefits, increased physical activity helps to reduce repetitive behaviors and improve sleep.
Keep Up the Homework Routine
It is OK to have less work, but keep the homework routine in place. For most parents this is an important routine to maintain. You have worked hard to develop and maintain this routine throughout the school year. Taking a more casual approach to homework over the summer might result in a major setback when school begins again.
Work on Social Skills
This is the biggest opportunity provided by the Summer break. Working on social skills goals can take many forms. You can create home routines to practice social skills. You can expand community involvement, sports, and play dates. A summer job, in any form, can usually provide social opportunities. Also consider programming generalization opportunities in whatever new activities summer provides. Some parents forget that activities like swim lessons, barbecues, and vacation trips can all be valuable new settings to prompt the use of social skills.
Turn Off the Video Games and Television
Yes, this does sound a bit preachy. Most of us have this struggle. Videos games and television provide a much needed break for parents, providing easy and low-cost entertainment. While it is much easier said than done, limiting these activities is critical for social development and critical thinking.
About Autism Spectrum Therapies
Autism Spectrum Therapies (AST) is committed to a world where people with developmental challenges, and the people who love them, dream and achieve their true potential.
Rooted in Applied Behavior Analysis (ABA), the strongest and broadest evidence-based approach, AST offers the most clinically appropriate and effective services within a family-friendly environment to infants, children and adults. Working in family's homes, communities, and schools, AST addresses all developmental needs, including language development, social skills, and building independence across the lifespan.
Employing the finest clinicians including an unmatched number of Ph.D.'s (10 and growing) and over 60 Board Certified Behavior Analysts, Speech Pathologists and Occupational Therapists on staff, AST continues to grow nationally in applied clinical and research communities. Explore our website http://www.autismtherapies.com and discover how Autism Spectrum Therapies is helping individuals with autism achieve their full potential.