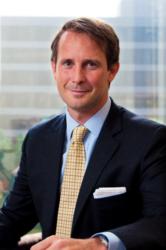 I am very honored to be chosen as a Super Lawyer again this year.
Atlanta, GA (PRWEB) April 16, 2013
Lawyers Christopher Simon and Michael Ruppersburg from The Simon Law Firm recently received ratings as Super Lawyer and Rising Stars, respectively, for 2013. These significant designations were granted to the men by Super Lawyers for their outstanding professional achievements and the recognition given by their peers.
Among lawyers from every state and in more than 70 different areas of practice, Mr. Simon and Mr. Ruppersburg were recognized by the solicitor-rating service based on 12 solid indicators of colleague acknowledgement and strides made in their particular field of practice. There is a rigorous multi-faceted selection process that involves independent research, peer nominations, and peer reviews. The 12 significant factors that are considered when awarding Super Lawyer designation to a car accident attorney like Mr. Simon include: verdicts and settlements, honors and awards received, special licenses and certifications, bar and professional association presence, position within law firm, pro bono work, experience, transactions, representative clients, education and employment background, scholarly writings, and other outstanding achievements. The Rising Stars honor is bestowed upon those up-and-coming lawyers who have been practicing for 10 years or less or who are 40 and under. Super Lawyers Magazine has the objective of creating a comprehensive directory of the nation's most renowned attorneys. This listing may serve as a resource for other lawyers and consumers seeking counsel, whether it is from a car accident attorney or a lawyer with another specialty.
"I am very honored to be chosen as a Super Lawyer again this year. Actually, I think I am just excited about Hugh being named as one of our field's Rising Stars," says Christopher Simon, head of The Simon Law Firm. "He really deserves all the praise he can get. He is an outstanding attorney."
Tractor trailer accident attorney Christopher Simon has been practicing for more than 15 years. In that time, he has been honored nationally as one of the Top 40 Trial Lawyers Under 40. He was on Georgia Trend Magazine's "Legal Elite" list in 2009, and he was also one of the country's Rising Stars as designed by Super Lawyers Magazine in 2009, 2010, and 2011.
Michael Ruppersburg has been recognized as one of Georgia's top lawyers and has been named on the Super Lawyers Rising Stars List in 2012. Before joining The Simon Law Firm as a car accident attorney, Ruppersburg worked as an Assistant District Attorney and a defense lawyer working on behalf of insurance companies defending personal injury and wrongful death cases. He has argued and won appeals at both the Georgia Supreme Court and the Court of Appeals.
The Simon Law Firm handles cases involving dog bites, medical malpractice, sexual harassment, overtime and wage law, boating accidents, liability, wrongful death, and workplace injuries.
For information on tractor trailer accident attorney Christopher Simon and Michael Ruppersburg, please visit the website at http://www.christophersimon.com. Contact office at 404-259-7635 or The Simon Law Firm, 3535 Piedmont Road Building 14, Suite 410, Atlanta, GA 30305 for a legal consultation.
About The Simon Law Firm:
As an Atlanta law firm dealing with personal injury and wrongful death cases, The Simon Law Firm works to educate clients as to their rights under the law. The lawyers of the practice have a combined 22 years of experience in this field, and they accept cases across the state of Georgia with offices in Atlanta, Athens, Savannah, and Conyers.