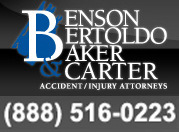 Las Vegas, NV (PRWEB) February 01, 2012
In the wake of a tragic early morning collision in Mesquite, Nevada which left one man dead, the Las Vegas personal injury lawyers of the Benson, Bertoldo, Baker, & Carter Law Firm have announced that they will be offering free legal consultations to all families and individuals whose lives have been affected by auto accidents in Las Vegas and surrounding areas.
According to Antonio Planas, police beat reporter for Las Vegas Review Journal, the unfortunate accident took place in Mesquite early Saturday morning on January 28th at approximately 5:00 AM, when Robert W. McGrew's van collided with a garbage truck after failing to stop at the intersection of Hafen Lane and state Route 170. The front end of the garbage truck hit the driver's side of McGrew's van as both vehicles entered the intersection simultaneously. Nevada Highway Patrol responded to the accident, and 49 year old McGrew was pronounced dead at the scene. The full news story can be found here, courtesy of Las Vegas Review Journal: http://www.lvrj.com/news/las-vegas-man-killed-in-mesquite-collision-138358879.html.
The lawyers of Benson, Bertoldo, Baker & Carter are experienced in providing legal counsel to auto accident victims in the Las Vegas area that have been severely injured, as well as the remaining relatives and family members of auto accident victims who have been killed in Las Vegas auto accidents.
As stated by the attorneys of Benson, Bertoldo, Baker & Carter, following the appropriate steps after an auto accident is crucial in order to make sure that a person's rights are protected and that they have the most concrete auto accident claim as they possibly can.
These steps can include one or more of the following tips:

A thorough medical evaluation should be performed as soon as possible for anyone who has been involved in an auto accident. At times, the full extent of an accident victim's injuries can go unnoticed at the time of the accident, and can potentially worsen or cause other complications if gone untreated.
Immediately reporting any Las Vegas car accident to the police is always encouraged. This will provide a police report for the auto accident that can be used as evidence by Las Vegas car accident lawyers to help establish liability if a citation for a traffic violation is issued.
Gather as much information possible from all parties involved in the auto accident. Important information to acquire includes names, addresses, insurance information, telephone numbers, and details of the automobiles involved such as car make and model.
If you have access to a camera, take photographs or video of the scene of the accident. Accurately recalling the exact events in detail can be a very challenging task after an accident, particularly when issues such as emotional trauma and stress associated with the accident come into play.
Finding the right Las Vegas car accident lawyers who can inform you of your legal rights and options and are experienced in representing auto accident victims is highly recommended.
When a car accident results in a fatality, it is imperative that an in-depth investigation be performed to verify the origin of the accident as well as the person(s) responsible and liable for the damages. The Las Vegas accident lawyers at Benson, Bertoldo, Baker & Carter provide case reviews at no cost for individuals and families that have suffered damages from auto accidents which occurred in the Las Vegas area.
About Benson, Bertoldo, Baker & Carter
Las Vegas accident lawyers Benson, Bertoldo, Baker & Carter help injured persons and their families seek compensation for their injuries and suffering. The law firm offers free case reviews for people in and around Las Vegas, with offices in Las Vegas and Henderson.
To schedule a free consultation, please call 1-888-516-0223.
###