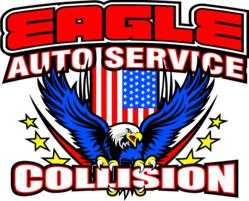 McKean, PA (PRWEB) June 07, 2013
Eagle Auto Service & Collision Center is proud to announce they are now a Pennsylvania-licensed vehicle inspection and emissions garage.
Customers can now visit Eagle Auto Service & Collision Center for all of their vehicle maintenance needs. The auto body shop has just received their license from the state to perform all vehicle inspections, in addition to the required emissions tests.
Eagle Auto has also acquired a new vehicle alignment apparatus, the Hunter Hawkeye to improve the efficiency for 4 wheel and 2 wheel vehicle alignments. This machine is supplied with special target mounts that mount onto the tire rather than the rims, to avoid damaging the rims. It is completely accurate to a 1/100 of a degree. The collision center consistently puts the customer first, and this new machine will improve customer wait times.
This is in addition to many services offered including: collision repair, body work, emergency towing, refinishing services, custom painting, oil changes, transmission fluid service, tires, coolant system maintenance, air conditioning service, general tune-ups, RV & Boat body repair and complete classic car restoration.
The staff at Eagle will repair any vehicle needs properly the first time and in a timely manner. Customers can trust that with their highly qualified collision repair team, they can handle any degree of accident damage. Additionally, they will handle all insurance claims through direct communication with the customer's specific insurance company.
Eagle Auto is open Monday through Friday from 7 a.m. – 5 p.m. and Saturday from 8 a.m. – 12 p.m. Call today at 814-476-7299 to set up an appointment.
About the company:
Eagle Auto Service and Collision Center is located at 8835 Walmer Drive, Building E, near the McKean exit 174 off Interstate 79. They specialize in collision repair and towing services for the Erie County, PA region. The experienced technicians at Eagle Auto Service & Collision Center are proud to assist their customers with all of their automotive needs. The staff has extensive experience in both auto body repair and car repair related issues.
For more information, please visit their website at http://www.eagle-auto.us.