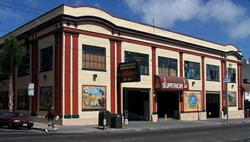 SPARK is a national organization that provides life-changing apprenticeships to middle school students from disadvantaged communities in an effort to empower them to succeed in their education and beyond
San Francisco, CA (Vocus/PRWEB) June 07, 2011
Superior Automotive, located in San Francisco, is working with SPARK to have kids work in the shop over the summer. The mission of SPARK is to provide life-changing apprenticeships to youths in underserved communities across the United States.
"SPARK is a national organization that provides life-changing apprenticeships to middle school students from disadvantaged communities in an effort to empower them to succeed in their education and beyond," said Eric Carlson of Superior Automotive.
SPARK has identified the growing problem of the dropout rate and wants to do something to help. Today 30 percent of students in the United States drop out of high school. To help, SPARK is connecting volunteer professionals with underserved youths in workplace apprenticeships to"spark" each student's potential.
Students identify a "dream job," and SPARK matches that student with a mentor who currently performs that job. These apprenticeships are complemented by a Leadership Class, which helps students connect the skills and lessons learned during their apprenticeship. As students explore the school-to-career connection, they build skills critical for academic success, gain a strong appreciation for the relevance of their education, and become motivated to work hard to achieve their dreams.
To learn more about Superior's auto detailing services, call (415) 692-7662, have a look at their website at http://www.superiorautomotivesf.comor stop by the garage at 3150 16thStreet in San Francisco.
About Superior Automotive
Superior Automotive offers body work, mechanical services, painting, and detailing. They do work for several major insurance carriers, and because of their expertise with auto insurance claims, they are the leading San Francisco auto body shop for auto accident repairs through insurance claims. They have been serving drivers in San Francisco since 1976.
###