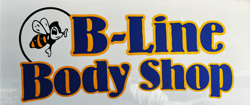 Restoring a vehicle back to factory conditions is what B-Line Body Shop does
San Jose, CA (Vocus/PRWEB) July 16, 2011
San Jose's collision repair expert, B-Line Body Shop is offering expert advice on how to maintain a car and keep it looking clean and fresh. Even brand new vehicles will see the luster and brightness of its paint scheme wear off, but with proper care and maintenance, a vehicle owner can keep their car looking great for longer.
Many factors can cause a vehicle to lose its sharp paint color, such as debris from the roads and weather conditions that deposit dirt that can etch into the paint if not removed in a timely matter. A combination of dirt, sulphur-dioxide, dampness, and the effect of sunlight attacks the paint coat if it is not sealed with a water and dirt repellant film.
"Restoring a vehicle back to factory conditions is what B-Line Body Shop does. If you find that your vehicle's paint is not up to your standards, stop by so our expert staff can identify the problem. It may be a simple polish of a panel or the panel may need to be stripped and refinished. Either way, our expert staff is ready to help restore your vehicle to looking like new," said Michael Avery of B Line Body Shop.
To keep the finish of the vehicle looking brand new, start by spraying down the car with plenty of water to remove all dirt particles that can scratch the finish during washing. Never use unsuitable cleaning materials that contain abrasive components or chemical substances, such as rubbing compounds that can damage the finish. Be prepared to do regular washing of the finish to help avoid scratches from occurring.
Washing additives can help maintain the look of the finish because it can create an additional layer of protection to prevent dirt from penetrating the paint itself. Clients should always check the paint manufacturer as to which water additive is best to use. They should use only mild polishing wax to keep the paintwork shiny or risk stripping existing paint and refinishing the surfaces again will be the only way to restore vehicle's original finish.
For more information about B Line Body Shop, visit them in person at 161 Patterson Street in San Jose, call them at (408) 279-4500 or visit them on the web http://www.b-linebodyshop.com/Home.html.
About B Line Body Shop
San Jose body shop, B-Line Body Shop performs domestic and foreign repairs on all vehicles. They have a highly experienced staff ready to step in, diagnosis and repair a client's vehicle. They can help customers with collision repair, auto insurance claims, scratch repair, bumper repair and dent repair. In addition, B Line Body Shop is also willing and able to give a lot of tips and reminders on how to keep a car looking brand new.
###