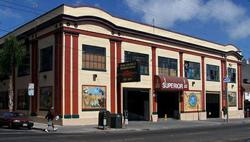 It's a pleasant surprise to have an affordable option.
San Francisco, CA (Vocus/PRWEB) March 21, 2011
For most drivers, the hours following an auto accident are the worst possible time to think about another big bill. Yet that's often what faces people who have been in a collision when their insurance claim doesn't cover a car rental while the damaged vehicle is being repaired.
Now, a partnership between a San Francisco auto body shop and a leading national rental car company will prevent some consumers from facing this unfortunate scenario. Superior Automotive, located at 3150 16th Street, is partnering with the rental car company to offer customers without rental car insurance a special rate of $10/day for a vehicle.
Eric Carlson, Superior's general manager, said the shop debuted the service a few months ago. He added that it's the least he and his team can do for drivers who are in a tough situation.
"These are customers who came in and were already planning on taking the bus or taxi or even going on foot," Carlson said. "It's a pleasant surprise to have an affordable option."
Carlson added that it's just these kinds of pleasant surprises, combined with a friendly staff and top-notch service, that keep customers coming back to Superior when their cars just need a little maintenance or detailing work.
For more information about this or any of Superior Automotive's services, call them at (415) 692-7662, view them on the web at http://www.superiorautomotivesf.com, or visit their facility located at 3150 16th Street between Valencia and Guerrero Streets.
About Superior Automotive
Superior Automotive is a highly regarded San Francisco auto body shop that specializes in auto body repair and auto painting services. Superior Automotive has served the San Francisco Bay Area since 1976, and is renowned for working with auto insurance claims, providing excellent customer service, using state-of-the-art equipment, and performing quality work.
###