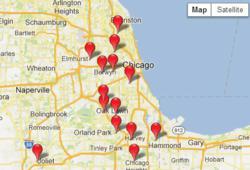 It is unsure how insurers will use the information. For example, if the data reveals lower value for a particular vehicle, will the insurer charge less premium to insure that vehicle because the risk is lower?"
Calumet City, Illinois (PRWEB) November 16, 2012
Auto liability insurance rates are generally expressed as a function of applicant's credit score, ZIP code, age, gender, marital status, driving history, besides certain surcharges and discounts. Physical damage car insurance rates are based, generally speaking, on the value of the insured vehicle. While most standard carriers have been using the CLUE reports in their underwriting, a couple of new patents have been filed by CARFAX to incorporate the vehicle history data in the auto insurance rating models.
Auto insurers have been using the C.L.U.E. reports and VIN reports for a while. CLUE auto reports offer a seven year history of automobile insurance losses associated with a person. The paid service is offered by LexisNexis. CLUE reports include the following data: date of auto loss, loss type, and amount paid along with general information such as policy number, claim number and name of insurer.
The U.S. Department of Justice in partnership with the American Association of Motor Vehicle Administrators (AAMVA) run a governmental body called the National Motor Vehicle Title Information System (NMVITS) to identify vehicle history pertaining damaged vehicles in order to prevent fraud. There are few other paid services in the private sector that compete with CARFAX in providing vehicle history data reports from the NMVITS. These include Auto Data Direct, Check That VIN, CVR, Experian, InstaVIN, and VIN Smart. Information included in the NMVITS includes current and previous state of title data, title issue date, latest odometer data, theft history data (if any), any brand assigned to a vehicle and date applied, as well as salvage history, including designations as a "total loss" (if any).
Ed Snenneh of Insurance Navy, a leading provider of auto insurance in Chicago said that the "new CARFAX patents are aiming at incorporating the vehicle history data, using quantitative models (scores), in the pricing models of auto insurance. Currently some carriers use the vehicle history information for reasons other than pricing. It is unsure how insurers will use the information. For example, if the data reveals lower value for a particular vehicle, will the insurer charge less physical damage premium to insure that particular vehicle because the amount at risk is lower?"
"The biggest issue we see is the cost vs benefit resulting from using the new models. Insurers will incur additional costs for ordering these reports. Will the increase in revenues from using these additional pricing factors justify the cost of obtaining the data for each vehicle to be insured? This question is yet to be answered by the insurers," Mr. Snenneh added.
About Insurance Navy
Insurance Navy is a leading provider of auto insurance quotes in Chicago and the suburban areas, with several branches and locations. The agency represents a number of insurers including Progressive auto insurance, Hartford, and more than 20 other carriers and MGAs.
Contact Details
Insurance Navy
Address: 663 River Oaks Drive, Calumet City, IL 60445
Phone: (708) 891-9495