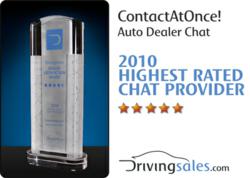 We are often recognized for being the most widely used and most popular provider of auto dealer chat software, but it is particularly gratifying to be recognized as the highest rated as well.
Atlanta, GA (Vocus/PRWEB) February 05, 2011
Contact At Once! (http://www.autodealerchat.com) has won the "Highest Rated" Chat Provider Award in the second annual DrivingSales Dealer Satisfaction Awards. Contact At Once! received the highest ranking for dealer satisfaction in the Chat Provider category, as determined by the thousands of auto dealers who are part of the DrivingSales.com community.
"Contact At Once! would like to thank our many customers for their positive reviews and feedback. We are often recognized for being the most widely used and most popular provider of auto dealer chat software, but it is particularly gratifying to be recognized as the highest rated as well. The dealers on Drivingsales.com are amongst the most progressive so we are very honored." said Marc Hayes, EVP and Founder of Contact At Once!
As the market leader in auto dealer chat, Contact At Once! is currently used by AutoTrader.com, Cars.com, CarsDirect.com, CarSoup.com and more than 7,500 dealers to connect online car shoppers with dealership salespeople. The company continues to advance its product offering as evidenced by the recent release of the first and only mobile chat application for auto dealers. After downloading the exclusive Contact At Once! mobile chat app from the iTunes App Store, dealership salespeople are free to respond to incoming sales inquiries whenever and wherever they are. The mobility offered by Contact At Once! allows dealers to interact with more buyers and sell more cars.
The DrivingSales Dealer Satisfaction Awards, presented at the 2011 NADA Convention and Expo, measure satisfaction with services provided by vendors by allowing dealers to rate and review their vendors online at DrivingSales.com.
"We are proud to present the DrivingSales Dealer Satisfaction 'Highest Rated' Chat Provider Award to Contact At Once! for achieving what we consider to be the highest possible accolade: the satisfaction of their customers," said DrivingSales CEO and Founder Jared Hamilton. "This award is a reflection of the excellent results Contact At Once! has generated for dealerships across the nation, and we are proud to recognize their accomplishment."
Full award results are available online at DrivingSales.com/dealersatisfactionaward. Full broadcast coverage of the DrivingSales Dealer Satisfaction Awards ceremony is available at drivingsalestv.com.
About Contact At Once!
Contact At Once! is the leading provider of live chat software for automotive websites and operator of the industry's only chat network, connecting over 7,500 car dealers to the websites that car shoppers visit most often. Adding ContactAtOnce! car dealer chat to a website typically increases the number of sales interactions between dealers and online prospects by at least 25%. Contact At Once! is headquartered in Atlanta, Georgia.
About DrivingSales
DrivingSales is the auto industry's fastest-growing, most influential trade media property focused on delivering actionable profit-building information to auto retailers and industry professionals. DrivingSales' media network includes flagship property DrivingSales.com (http://www.drivingsales.com), the world's largest car dealer social network where thousands of dealership professionals collaborate and share best practices in a 20-group-style setting; DrivingSalesTV (http://www.drivingsalestv.com), an interactive web channel which helps car dealers and auto professionals keep tabs on their industry and emerging technologies 24/7; DrivingSales University, an on-demand training platform where dealerships learn the latest web strategies from top e-commerce experts; DrivingSales Executive Summit (DSES) the industry's leading conference where progressive dealers collaborate and learn from world renowned experts; and DrivingSales Dealership Innovation Guide, a free quarterly publication featuring case studies of the industry's most innovative dealerships, solutions and best practices.
DrivingSales encourages innovation and excellence in the industry with its annual Dealer Satisfaction and Innovation Cup Awards, whose winners are determined solely by the dealer community. Founded by Jared Hamilton, a third generation car dealer, DrivingSales was named one of ten social media gambits for 2009 by Automotive News and one of the Top 10 Companies to Watch by Auto Success Magazine.
###