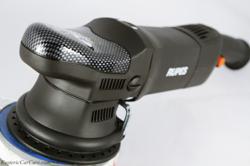 The Rupes LHR15E is a no brainer for professional detailers, who want to make more money, enjoy more satisfied customers and do it in less time.
Albany, NY (PRWEB) January 22, 2013
Rarely, will a product change the game for an industry, but the Rupes Bigfoot Polisher has done just that for professional auto detailing. Prior to the evolution of random orbital buffers, professional detailers would have to spend years learning how to master a rotary buffer. However, rotary buffers can often do more harm than good when put in the hands of a new detailers. This left the higher end clients to professional detailers who dedicated their time perfecting their trade. Body shops and volume based detail shops often get a bad reputation because of their high turnover on detailers and lack of training and dedication. The Rupes Bigfoot Polishers can even the playing field , making brand new detailers capable of achieving show car worthy finishes.
What makes random orbital buffers more appealing than rotary buffers is they will not damage paint as quickly and they are easier to achieve a hologram free finish. Since rotary buffers rely on spinning the pad, the outer edges of the pad travel a further distance in the same amount of time as the rest of the pad. This creates a lot of heat on the outer edges of the pad increasing the chance of burning the paint as the pad tilts to its side. Another common side effect of this is leaving behind a trail of holograms that followed your path of the buffer over the paint. A random orbital buffer oscillates instead of spins and does not generate nearly as much heat as a rotary buffer will. In the hands of a new user, you always want to stick with a random orbital buffer. See Rotary Compounding - Is it Dead? for more reasons why detailers should shift away from rotary buffers.
Rupes improved upon previous models of random orbital buffers by using a powerful motor that generates a longer throw than other orbital buffers on the market. The buffers throw is the distance the backing plate or pad travels with each oscillation. Typical random orbital buffers have a throw of 8 to 10 millimeters. The Rupes LHR15E has a throw of 15 mm and the LHR21E has a throw of 21 mm. Another difference between models is the LHR15E uses 5.5 inch pads and the LHR21E uses 6.5 inch pads. That larger throw means that in the same amount of time, you are covering more surface area. This helps break down polishes more effectively, leaving you with a better finish. For professional detailers, this equates to better results in less time, meaning more profit to be made!
Not only will the Rupes buffers produce better results, but doing so is easier and more comfortable than other buffers. Rupes engineered the buffer to reduce vibration, a common complaint on other random orbital buffers. This machine feels extremely smooth when using it and can even be operated with 1 hand without it jumping all over the place. The build quality is tremendous throughout the buffer and once turned on it is apparent that Rupes knows what they are doing.
The Rupes Bigfoot Polishers are produced and imported from Italy, and are currently in high demand in the auto detailing community. Esoteric Car Care is one of the first companies to offer the Rupes in the United States. Esoteric Car Care is owned and operated by Todd Cooperider, one of the top professional detailers in the US, located in Columbus, Ohio.
For more information on professional detailing and how to grow or start a professional detailing business, visit prodetailing.com. The site is owned and operated by George Dushensky. George has helped establish many of the top professional detailers in the industry and offers business consultation to professional detailers. Areas of consultation include: business planning, efficient product selection, marketing and branding your business, establishing an online presence, how to effectively network, pricing your services, setting up a shop and anything else related to the auto detailing industry.