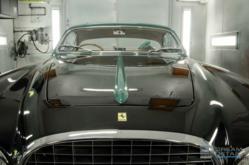 Dream Detail is the go-to auto detailing service for the Washington DC area
Washington, DC (PRWEB) February 14, 2013
Finding a professional detailer to trust with a vehicle with can be a difficult task. Dream Detail receives the stamp of approval from ProfessionalDetailing.com for exceptional auto detailing in the Washington DC area. Owned by Travis Kent, Dream Detail specializes in paint correction services and protective coatings.
Recently, Dream Detail was commissioned to assist in a paint correction job on a rare 1952 Ferrari 212 Vignale that received a platinum award at the Cavallino Classic in Palm Beach, Florida. This shows the level of commitment and quality of service Travis brings to each detail. Visit Dream-Detail.com to view more high quality auto detailing work.
In 2013, Dream Detail became a 22ple authorized installer. 22ple manufacturers products that add a protective glass coating to paint, metal and trim pieces. This protection lasts for up to 2 years, making it a great option for new car owners. Don't waste a dime on dealership protection plans, instead have a professional detailer apply a long lasting coating.
Dream Detail is a new author on ProDetailing.com sharing auto detailing knowledge with others. Contact Dream Detail for professional auto detailing services in the Washington DC area, where every vehicle will experience a higher resale value and easier maintenance.