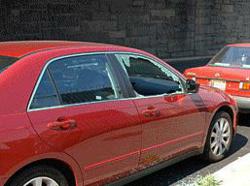 My dad was in from out of town, and his car window got smashed,"
San Francisco, CA (Vocus/PRWEB) March 30, 2011
Now is the time to fix that stubborn window crack, install a better sound or alarm system, or tint the car windows for more privacy because San Francisco auto service company Twin Brothers has announced their Spring Sale. All services and merchandise, tinting, auto glass, and audio are up to 15% off. The sale lasts for the months of March and April 2011.
"My dad was in from out of town, and his car window got smashed," said Twin Brothers Auto Service client Maile T. "We called Twin Brothers and within an hour had the window fixed with a super low price! So easy, in the neighborhood, and super friendly service, I highly recommend them."
The Spring Sale at Twin Brothers Auto Services applies to everything from car window repair to car alarms. They also perform windshield repairs and replacements, back and side glass services, power lock and window installation, window tinting, electric side mirror installation, car alarm installation, and more. Twin Brothers also troubleshoot and fix electrical problems and do turn signal repair, headlight and tail light repair, and computer chip replacement. They install car stereos and speakers of all sizes, as well as dashboard TV's.
The popular San Francisco auto glass repair and services company specializes in tinting, replacing and repairing auto glass, and installing car stereos and alarms. The Twin Brother's Auto Service's price promise is to match or beat the price of any competitor, although the Spring Sale makes it hard for any competitor to even come close.
For more information about the Spring Sale or any of Twin Brothers Auto Services' products and services, call them at (415) 992-7214, view them on the web at http://www.twinbrothersautoservicessf.com or visit their garage located at 3258 17th Street in San Francisco.
About Twin Brothers Auto Services
Twin Brothers Auto Services is a San Francisco auto glass and service company that specializes in auto glass and auto glass repair, car window repair, tinting, and car audios. Twin Brothers Auto Services serves the San Francisco Bay Area.
###