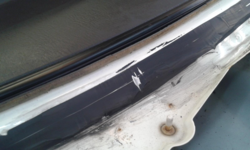 Wilmington, NC (PRWEB) June 28, 2013
Improperly installed windshields are more common than many drivers might think; even if it's not visible now, it can become an issue within a year, or even a few months. In humid and salty climates like the beach, improperly installed windshields can show signs of rust and even holes in the frame of the car within a very short amount of time of being installed. Drivers can bring their vehicles to Register's Auto Glass to have a new windshield properly installed in time for the summer months.
A windshield does more than protect a vehicle's passengers from the wind; it is part of a passenger restraint system in an automobile and must be installed properly in order for air bags to deploy correctly. A windshield can also help passengers stay restrained inside the vehicle in the event of an accident. Because of the importance of correct installation, make sure to take vehicles to a trustworthy source to install a windshield.
There are major safety issues involved with improperly installed windshields. The results of an improperly, carelessly installed windshields include water leaks through the windshield glass and holes in the metal frame. Many customers will take their vehicles to other auto glass companies that will make "quick repairs" to their windshield, which end up needing more work. Register's takes the time to make sure each windshield is installed correctly. That means no extra visits for down the road as a result of leakage or other problems.
Register's Auto Glass works with insurance companies to make repairs and replacements more affordable. Many people will go directly through their insurance companies when they need auto glass repairs. It is important to shop around and to ask lots of questions to find the right, reputable company to repair glass. This will help prevent safety issues down the road, as well as more unnecessary trips to a glass specialist.
About the Company:
Register's Auto Glass is locally owned and operated by Tommy and Linda Barron. They are a fully serviced, licensed and insured glass specialist company. Located in Wilmington, NC, they service all of the surrounding communities throughout New Hanover, Pender, and Brunswick counties. Their staff is ready to assist on customers' next project, provide necessary engineered glass replacement, and install in a prompt manner.
Although they specialize in custom automotive glass repair and installation, Register's Auto Glass services cover all aspects of glass in vehicles as well as home and office. Home repairs or installations might include frameless shower doors, glass tabletops, or even mirror repairs. Their ability to assist homeowners, businesses and automotive dealers, makes them the professional glass technicians drivers need.